In the kitchen: Easter lunch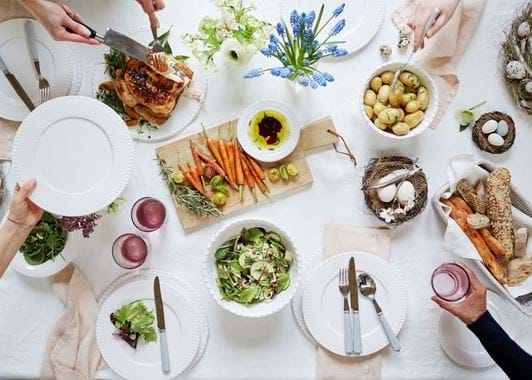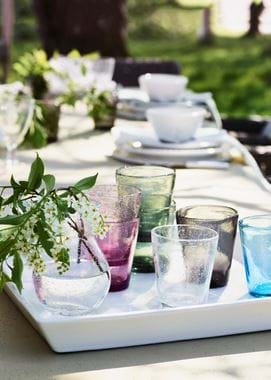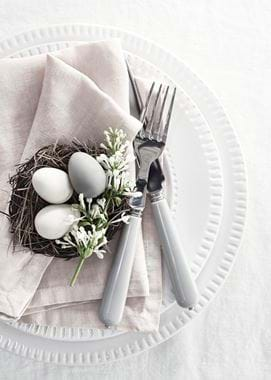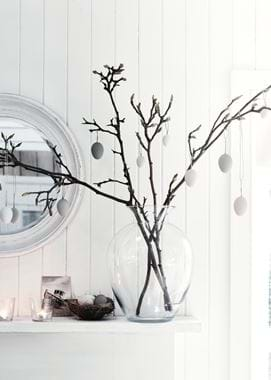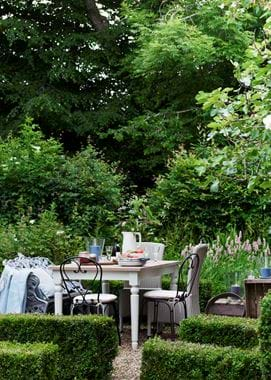 In the kitchen: Easter lunch
There are a lot of things to consider when it comes to Easter dining. There needs to be a sense of tradition, a feeling of spring, and importantly, it needs to be something that looks extra special.
This year, to make it easier, why not focus on two main Easter foodie occasions: Easter lunch and afternoon tea? For the latter, we picked our marketing director, Fiona's, treasured family brownie recipe and adapted it for the season by adding extra chocolate and decorating with mini, speckled eggs.
For lunch, it took us much longer to decide. We considered light and fluffy flans, fragrant risottos and slow-cooked lamb. For dessert we wondered about a traditional simnel cake and pondered over retro lemon meringue pie. In the end, we all agreed over classic roast chicken and berry pavlova, but with a little something special added to every part…
Lemon and thyme roast chicken with a balsamic glaze
Served with honey-drizzled carrots, chive-scattered potatoes and salad two ways
Makes enough for six
Put aside: around two hours
What you'll need
For the chicken
2kg whole chicken free-range if you can
Sea salt and ground black pepper
1 large lemon
1 whole garlic bulb broken into cloves
1 handful of fresh thyme
A squeeze of balsamic glaze
Olive oil
1 handful of fresh rosemary sprigs leaves picked
For the potatoes
1.5kg baby new potatoes (we use Jersey Royals)
2 tbsp fresh mint chopped
1 tbsp fresh chives snipped
40g unsalted butter
Sea salt and ground black pepper
For the carrots
1kg Chantenay or baby topped carrots
3 tbsp rapeseed oil
2 tbsp white wine vinegar
2 tbsp clear honey
For salad number one: crunchy spring greens
200g fresh salad leaves (we like a mix of baby leaves)
1 courgette thinly sliced
1 red onion in thin strips
100g walnut pieces
A few strands of fresh chives
For salad number two: pea and chilli
200g fresh spinach leaves
100g shelled garden peas
100g fine green beans trimmed and sliced
1 red chilli deseeded and chopped finely
What to do
1 Prepare the chicken the night before or a few hours ahead by rubbing it all over with a good amount of seasoning. We saw this on a Jamie Oliver programme and it really does make a big difference. Leave it in the fridge, covered, until you're ready to cook.
2 Preheat the oven to 190⁰C/gas mark five and bring a pan of salted water to a rolling boil.
3 Put the potatoes into the pan along with the whole lemon and a few garlic cloves and cook for roughly 20 minutes. They should be soft the whole way through but still hold their shape. Then put them to one side.
4 Removing the lemon from the pan, pierce it in several places to allow the juices to infuse the chicken. Rub the chicken again, this time with olive oil, and push the lemon, garlic cloves and fresh thyme inside the chicken. Place it onto a roasting tray and cook for one hour and fifteen minutes.
5 In the meantime, you can prep your vegetables. Starting with the carrots, find a separate roasting tin and tip them in with the oil and seasoning, coating evenly. Pop them into the oven for 30 minutes to roast, before introducing the honey and vinegar. Be sure that you coat each carrot and then return them to the oven for a final 20 minutes. You can also do this stage by pan frying if you want more of a blistered effect.
6 While the carrots and chicken are roasting, it's time for the salads. You can get each of them ready in no more than ten minutes. Simply sit the ingredients for each salad in its own colander and wash thoroughly. Toss through to shake off excess water droplets and then tumble into your serving dishes of choice.
7 Now you can take the chicken out and drizzle the balsamic glaze on top, spreading it out with a pastry brush. Then return it to the oven for a further 15 minutes until the chicken is cooked through.
8 Five minutes before the chicken is due out, add the finishing touches to your potatoes. Mix the butter with the mint and chives and, drained of water, return the potatoes to a gentle heat and add the herb butter. Put the lid on and, after a minute, give the contents a swill so the butter covers all the potatoes. Keep a close eye on it so the butter doesn't burn; the aim here is to just warm the potatoes through.
9 Potatoes and salads ready, take the chicken out, remove the lemon, squeeze out the garlic pulp and then move that across the chicken for even more flavour. Add a tad more balsamic glaze on top and serve the chicken on a bed of thyme and fresh bay leaves. The carrots should also be ready and we like to serve those with a dressing on the side that works with every aspect of the meal (like simple extra virgin olive oil and balsamic vinegar).