The joy of moving to the coast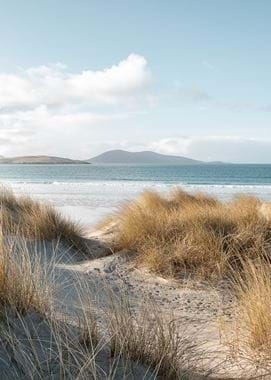 The joy of moving to the coast
Is a move to the coast akin to one long holiday? It can certainly look like it is from a land-locked sitting room. All those open beaches, the feel of sand between the toes, and access to the fresh-off-the-boat catch of the day. If you've ever contemplated upping sticks and moving to one of the UK's wonderful coastlines – and, let's be honest, we are spoilt for choice with coastal terrains to suit all tastes – it's worth considering some of the advantages and disadvantages of a life by the sea.
Navigating the 'on' and 'off' seasons is a major consideration. On, when seaside towns fill with tourists (and their cars), when restaurants are booked up weeks in advance, and when beaches are noisy and focused on fun. And then there's the lull. The visitors disappear overnight, and the locals can reclaim the coastal paths, the beaches, and a window seat at their favourite restaurant.
The weather too is not to be ignored. While the bracing, iodine-rich air is an excellent sleep aid, those strong sea winds in winter can test the mettle of the best of us.
But probably the best way to get a sense of what a move to the coast would be like is talking to those who've already done it. Here, we ask two city dwellers who made the move about how their lives have changed.
Rhoda Parry
Rhoda Parry is the editorial director of Ideal Home and Gardeningetc. She moved from a Victorian terrace in Islington, London to a contemporary new build in a beach community outside Rye in East Sussex when she was expecting her second child. @rhoda_parry
What made you decide to relocate?
My restless nature and spirit of adventure. I wanted my two sons – now eighteen and fourteen – to grow up connected to the landscape and in tune with the rhythm of the seasons.
What were your unexpected 'wins' from the move?
Discovering a cohort of creative people who live locally, and a greater sense of myself and my work/home balance. I also didn't expect to fall in love with my shingle garden and the salt-loving, wild plants that thrive in it.
And the downsides?
Those cold south-easterly winds that buffet our house in the darker months.
Steven Short
Steven Short is a writer and editor who moved with his partner from north London to a flat in Brighton, before buying a Victorian renovation project in Hastings that they're slowly restoring using authentic period materials. @seshort
What made you decide to relocate?
I grew up in London but lived in Barcelona for nine years in my twenties and really loved living on the coast.
And what has surprised you about your new location?
I never get bored of seeing the sea – seeing a horizon makes such a difference to my outlook on life. And we feel like part of the community; people stop and say hello on the street here.
And the challenges?
The air is wet! We often have to mop the condensation from our windows in the morning.
How has your lifestyle changed since moving?
We go for more walks on the beach and in the country. We have spontaneous drinks with neighbours rather than trying to coordinate diaries weeks ahead. And, as I've pretty much stopped commuting into an office, I have more time to shop for food and to cook, which I enjoy. Now, a gin and tonic marks the end of the working day rather than a grim tube journey home.