Amanda, Andrew & their multifunctional garden room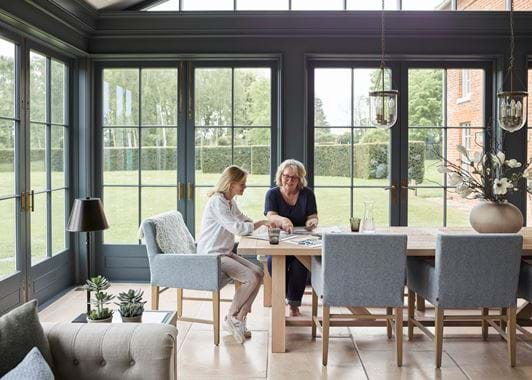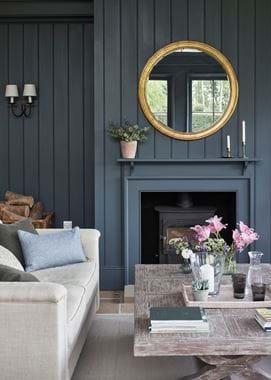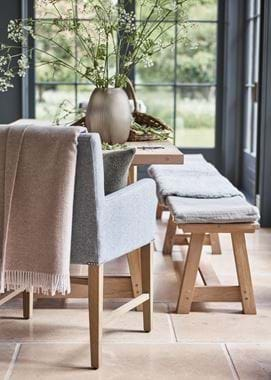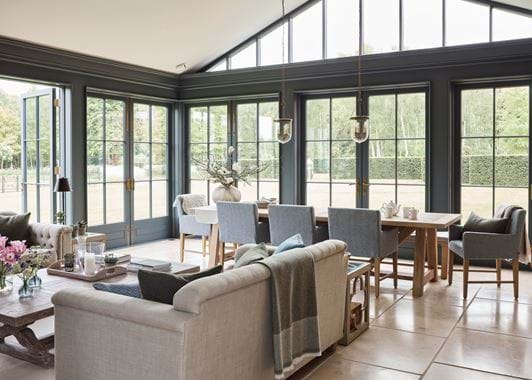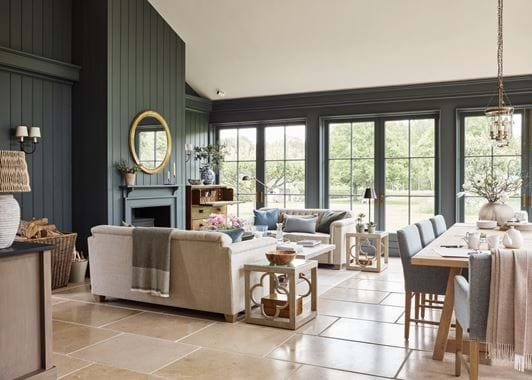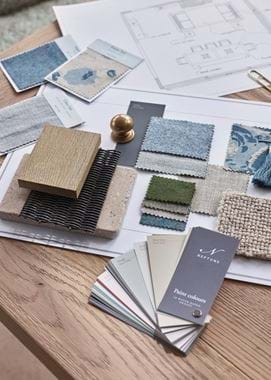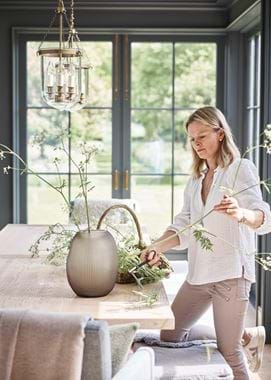 Amanda, Andrew & their multifunctional garden room
With a vision in mind, but little more than the concrete foundations to work with, Amanda and Andrew turned to our Home Design Service to bring their garden room to life. Today, it's a generous space, flooded with light, that houses their sitting room and dining room.
Home profile
Situated just outside the picturesque village of Kersey in Suffolk, Sampsons Hall, a listed Georgian red-brick house, is home to Amanda, husband Andrew, their three grown-up children, Jamie, Alexander and Emilia, Isla the dog, two farmhouse cats, chickens, runner ducks, and a small herd of Portland sheep. Thought to have once formed the middle section of a larger manor house lost to a fire, Sampsons Hall is where the family put down roots in 2008. A 1980s kitchen extension had been added on to the property in the years before, but after a burst pipe under the kitchen sink flooded the area while the family were on holiday, works ensued to knock the extension to the ground and rebuild a new multifunctional space in its place.
The project
Structural works were already underway when Amanda first met home designer Gail at Neptune Bury St Edmunds. 'It wasn't my intention to go in and ask for help with the new space – I was actually looking for a new bed for my daughter's room! But we were in the design library considering fabrics when we were introduced to Gail. From our description, she drew my daughter's bedroom on paper, completely grasping the sense of the space. I was so impressed. We started talking about the plans for the garden room and one thing led to another,' explains Amanda, with a smile.
Armed with a clear idea of what she wanted for the soon-to-be garden room – a south-east facing space with extensive views across the landscaped garden – for Amanda, the Home Design Service was less about handing over the reins, and more about collaboration and reassurance. 'It was truly great having someone to share ideas with and confirm that what you're wanting to do will work. Gail gave me the confidence to put my vision into practice. I'd already earmarked the Arundel table and Lottie sofas for the space, for example, but she drew them into the floorplan so I could better visualise the reality. This was at a time when we still had no walls to speak of!'
Comfort and versatility were high on the couple's agenda for the room. A space that would be used informally by the family and for entertaining alike, the furniture needed to suit both functions. 'Lottie is such a comfortable sofa design and had been on my radar for some time. Similarly, we opted for the Shoreditch upholstered dining chairs because I wanted a style that encouraged guests to really relax and linger. The Arundel bench, meanwhile, we chose for its ability to accommodate a few more at the table – and our Milo stools can be used as two extra perches come Christmastime.'
When it came to the colour palette, along with honeyed natural limestone flooring, Amanda had already chosen a deep blue-green called 'Yard Arm' from Humphrey Munson for the walls (our dark grey Smoke, with its undertones of blue and green, would be similar). The intention was to balance the intensity of the light that blankets the room: 'I was worried a lighter shade might actually be too bright,' she explains. 'Along with all the glass in the doors, we also have a roof with an apex at one end.' The colour also created a link with the garden, a connection that Amanda says was paramount to the project: 'In past homes, I've always had such a yearning to be outside, but now, I'm just as happy to be inside, as it still feels so connected to the garden beyond the doors. It was crucial that we establish the flow between indoors and out – in the design, but also in the decor.'
Though technical challenges were few and far between, the layout for the generously sized space demanded careful consideration. 'When you're dealing with a large area, it can be hard to know how to approach it,' says Amanda. 'It's also very interesting to see how much the space does "come in" once you start to bring in furniture. With the help of Gail's meticulous drawings and plans, we certainly didn't struggle to fill it, which was a worry initially. And it still manages to feel cosy and intimate.'
Life in their new garden room
How would you describe your new space?
'If I were to liken it to the dress code for a party, it would be "smart casual". It's a very versatile space that's relaxed but beautiful at the same time.'
What could you now not live without?
'The connection with the garden. In the summer you can throw open the doors and really embrace the flow between indoors and out. And on a cold winter's day, you get to keep the views, but also benefit from the warmth of the log burner.'
What's next?
'When we bought the property, we did an awful lot of work outside, planting some nine hundred yew trees, creating a kitchen garden with raised beds, and building a greenhouse, which I adore. But we haven't tackled the outdoor terrace project yet – that's imminent! Once it's complete, we'll have a more practical outside space for entertaining, right outside the garden room. We're also building a swimming pool. That will complete the works, much to Andrew's relief!'  
Whether you want us to take the reigns of your decorating project or, like Amanda and Andrew, you already have a vision in mind you'd just like an expert's reassurance on, our Home Design Service is here to help. Find out more and book your first free consultation here.