Beetroot hummus with Jerusalem artichokes, goat's cheese and pea shoots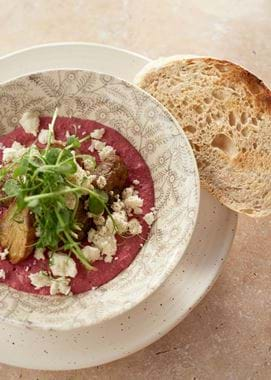 Beetroot hummus with Jerusalem artichokes, goat's cheese and pea shoots
As we inch ever closer towards spring, the gradually brighter days and awakening of the garden have us longing for lighter, more vibrant dishes in the kitchen. But how to marry that with the hearty vegetables still in season? To fit the bill, the chefs at our café, The Provenist, cooked up this dish: a lunch or starter made with beetroot and Jerusalem artichokes that has a garden-fresh earthiness just perfect for right now. Makes enough for four.
What you'll need
For the hummus:
400g tin of chickpeas, drained
200g cooked beetroot
2 tbsp tahini
1 lemon, zest and juice
1 clove of garlic, crushed
A pinch of salt
4 tbsp extra-virgin olive oil
12–16 Jerusalem artichokes (depending on size)
1 tbsp olive oil
2 tbsp roughly chopped fresh rosemary
1 tsp salt
1 tsp cracked black pepper
400g goat's cheese or tofu
A couple of handful of pea shoots
4 slices of sourdough
What to do
Preheat your oven to 180°C. Scrub each of the artichokes clean then halve and toss together on a baking tray with the olive oil, rosemary and salt and pepper. Roast for 45 minutes or until they're soft but still hold their shape.
In the meantime, add all the hummus ingredients to a food processor and whizz until smooth. If you find it's too lumpy, add a little more olive oil and a splash of water.
Once everything's ready, all you need to do to is top the hummus with the artichokes, crumble over the goat's cheese or tofu and finish off with the pea shoots. Serve with a slice of toasted sourdough each for dunking.
If you're ever in Bath, be sure to stop by and see us as The Provenist. You'll find the café next door to Neptune Bath off Walcot Street.