Spiced ginger, orange & apple warmer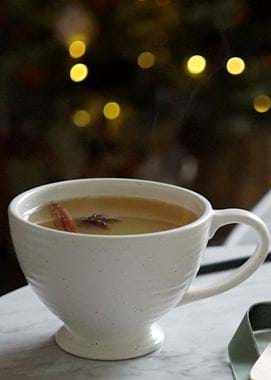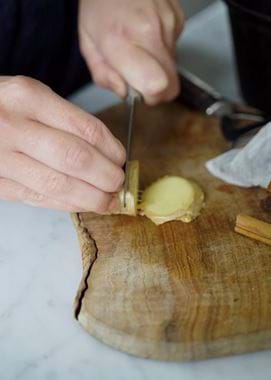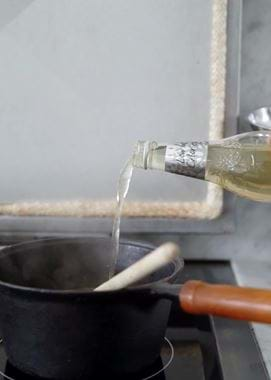 Spiced ginger, orange & apple warmer
Mulled wine might be the typical drink of choice on a cold winter's evening, but it's not to everyone's taste. Here then, instead, is a recipe for a warming apple and orange drink, infused with the same festive spices and a belly-warming kick of ginger, but without the headiness of mulled wine (nor its alcohol). We'll be serving it right through the Christmas period (you could even start on Bonfire Night) and on until Old Twelfth Night (17th January) when, traditionally, villagers in the cider-making counties would drink to the health of their trees with hot apple drinks and much revelry. A cheering idea indeed. This recipe makes enough for four–six mugfuls, depending on how generous you are.
What you'll need
1 cinnamon stick
4 cloves
2 star anise
A thumb-sized piece of root ginger
2 regular tea bags
150ml water
300ml apple juice
1 orange
2 tsp honey
1 tsp butter (optional)
350ml ginger ale
What to do
Start by roughly cutting the fresh root ginger into slices – you don't need to worry about peeling it as you'll strain it off later.
Add the ginger slices to a saucepan along with the spices, the peel of the orange and the tea bags. Pour in the water and the apple juice then warm the mixture on the stove for about five minutes to start infusing.
Remove the tea bags then squeeze in the juice of the orange and add the honey and butter (if you're using it). Pour in the ginger ale then continue warming the mixture on a low heat for a further ten minutes.
To serve, simply ladle into mugs or glasses while still warm. Include the star anise and cinnamon stick for decoration if you like, but we've found it's best to sift out the cloves which are easy to swallow by accident, and the ginger and orange peel which aren't as pretty.