Chestnut, apricot and sourdough plant-based stuffing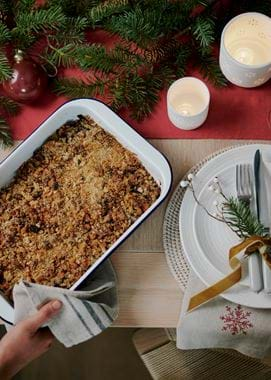 Chestnut, apricot and sourdough plant-based stuffing
Stuffing is most definitely not just for the turkey. Those of us following plant-based diets can also tuck into this essential of the Christmas Day table as it makes an excellent side dish too. You could even serve it in place of the traditional nut roast. Our recipe is baked flat in a tray rather then rolled into balls as you'd often do with stuffing, which we think makes things that little bit easier when you're busy prepping. You can also make it ahead if you like – just hold off on the breadcrumb topping and the actual baking until the big day so it's good and crispy, and keep the rest in the fridge (once cooled) in the meantime. And as for leftovers? They're perfect in bubble and squeak on Boxing Day. Makes enough for six as a side.
What you'll need
2 leeks, sliced
2 celery sticks, finely sliced
2 heaped tsp sage (dried or fresh and chopped)
150g split red lentils
450ml vegetable stock
180g ready-cooked chestnuts
250g mixed nuts
120g dried apricots
4 large slices of sourdough
Salt and pepper (to taste)
A few sprigs of fresh rosemary
Olive oil
What to do
First things first, preheat your oven to 180°C. Add the sliced leeks and celery to a frying pan with a tablespoon of olive oil and cook on a gentle heat until they're soft and translucent, stirring in the sage once nearly cooked.
In a separate saucepan, cook the lentils with the vegetable stock until they're completely softened and have absorbed all the stock, stirring to help break down the lentils.
Roughly chop up the chestnuts, mixed nuts and apricots and add to a large mixing bowl before stirring in the cooked leek mixture.
Toast the slices of sourdough and then blitz them up in a food processor to create chunky breadcrumbs.
Stir the cooked lentils into the leek mixture along with a quarter of the breadcrumbs. Check the seasoning then tip into a rectangular baking dish and gently press down into the corners.
Finely chop the rosemary, mix with the remaining breadcrumbs and sprinkle over the top of the stuffing. Drizzle with a little olive oil before baking in the oven for about 30 minutes, or until golden brown.