Hedgerow crumble with almond milk vanilla custard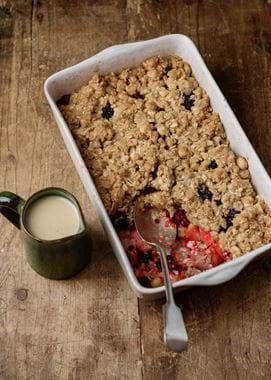 Hedgerow crumble with almond milk vanilla custard
Crumble never gets old. A staple of autumn and winter cooking for a reason, crumble is possibly one of the most comforting of puddings. Our version is plant-based, including a custard made from almond milk, but we don't think that takes away from the nostalgia. Serve it up following supper on a cold night or after Sunday lunch on a rainy day. Makes enough for six. Put aside an hour and 20 minutes, give or take.
What you'll need
For the filling:
400g pears
300g apples (any cooking variety will do)
200g blackberries
1 tbsp plain flour
1 tbsp soft, light brown sugar
For the crumble:
100g plain flour
100g coconut oil
75g soft, light brown sugar
50g flaked almonds
50g crushed hazelnuts
100g oats
A pinch of cinnamon
A pinch of salt
For the custard:
400ml almond milk
A vanilla pod
20g soft, light brown sugar
A tablespoon of plain flour
What to do
Preheat your oven to 180°C (gas mark four), then peel, core and chop the pears and apples into one-inch chunks. Add them to a bowl with the blackberries, then sprinkle over a tablespoon each of flour and sugar and give everything a good stir.
In another bowl, mix together 100g of flour with the coconut oil. Add in the sugar, almonds, hazelnuts, oats, cinnamon and salt, and give everything a good mix.
Pile the fruit into a roughly 20cm square ovenproof dish and top with the crumble mixture. Bake in the oven for 55 minutes until it's golden brown and the filling is starting to bubble up from underneath.
Once your crumble's about 20 minutes away from being ready, you can make your custard. Pour all but three tablespoons of the almond milk into a saucepan, then scrape the seeds out of the vanilla pod and add them, along with the pod and the 20g of sugar, to the milk.
In a small bowl, combine a tablespoon of flour with your reserved almond milk to form a paste. Whisk the paste into the saucepan of milk and heat gently, continuing to whisk while the custard warms up so you don't get any lumps. You'll know the custard's ready when it's thick enough to coat the back of a spoon.
Serve the crumble, warm out of the oven, with a generous helping of the custard.
This recipe was created by the chefs at our cafe, The Provenist. If you are ever in Bath, be sure to stop by and see us.