A botanical legacy by Dominic Lutyens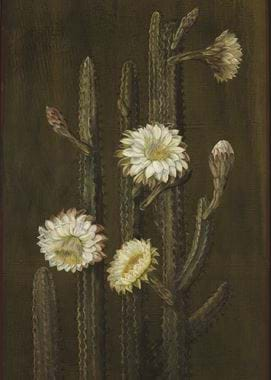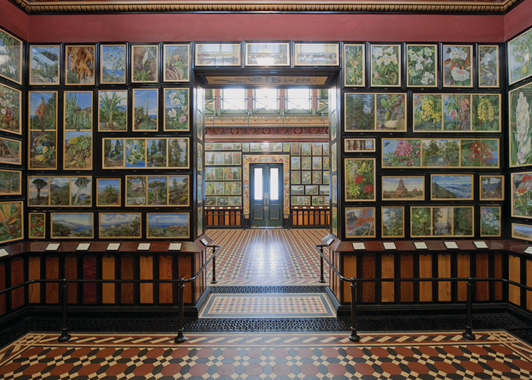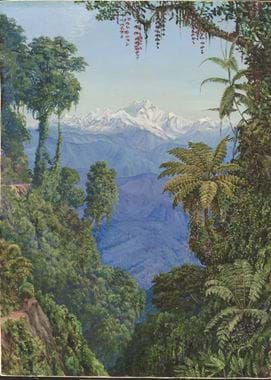 A botanical legacy by Dominic Lutyens
Intrepid Victorian explorer Marianne North travelled the world painting flora and fauna, then returned to Britain to create her most spectacular work: the Marianne North Gallery at Kew Gardens.
As a girl, Marianne North was presented with a bunch of rare Amherstia nobilis flowers by William Jackson Hooker, a botanist and Kew Gardens' first director, when she and her politician father visited its new Palm House in the 1840s. The sight of those crimson blooms, native to Burma, and the opportunity to wonder at the Palm House's exotic palms and tropical plants, entranced the young North, who was later to become one of Victorian Britain's leading botanical artists.
North was born in 1830 in Hastings to a well-to-do, well-connected family. Her father mixed with eminent scientists such as Charles Darwin. Her mother was the daughter of a baronet. 'Marianne's parents were slightly bohemian and eccentric,' says Maria Devaney, galleries and exhibitions leader at Royal Botanic Gardens Kew. 'She was a daddy's girl. He encouraged her interests, including painting and music and the natural world.' North was largely self-taught, although she received some art lessons from artist and author Edward Lear and travelled extensively to Europe, Syria and along the Nile with her father.
When her father died in 1869, he left her a fortune, providing her with the means to indulge her passion to see and paint plants in their natural environment. Darwin took an interest in her paintings and, on his advice, she travelled to Australia, presumably because he considered its habitat crucial to a full understanding of evolution.
Extraordinarily independent for a woman of the time, she went on to explore the US, Canada, Brazil, Japan, Singapore, India and Malaysia, among other places, in the 1870s and 1880s, her paintbrush capturing flora and fauna in their native habitat. The intrepid North executed her paintings, ranging from small-scale, panoramic landscapes to acutely well-observed plants and flowers, accompanied just by a guide, who helped her carry her luggage, food, water and portable painting sets through all terrains.
On her return to the UK, she contacted Kew Gardens' new director Joseph Dalton Hooker (William's son), offering to give Kew some of her artworks and finance a gallery to house them. He promptly accepted her offer.
Today, over 800 of her jewel-bright oils paintings are densely hung in the high-ceilinged Marianne North Gallery in Kew Gardens, which opened in 1882 under her strict supervision.
The gallery, nestled in the heart of Kew, is a brisk ten-minute walk away from Victoria Gate. Although something of a hidden gem, it's a wonderful attraction for visitors to Kew, and is now annexed by the contemporary Shirley Sherwood Gallery of Botanical Art, the world's first gallery devoted solely to this genre. 'North's paintings show plants in their natural habitat rather than in isolation against a white background, making them uncommon among our illustrations collection,' says Fiona Ainsworth, head of library, art and archives at Kew Gardens, pinpointing their appeal. 'What's more, having the context around the plant as North saw it in the 19th century provides a basis for comparison with those same habitats today.'
The gallery was designed by James Fergusson, a Scottish architectural historian who also created the Parliament building in Jamaica. Fergusson was hugely interested in Indian architecture, and while the exterior of the gallery resembles a colonial governor's house, with its wrap-around verandah, its interior is neo-classical: the clerestory windows that run around the gallery at ceiling height and allow daylight to enter the space are a direct nod to Greek temples.
The windows are also an original approach to lighting a gallery, running counter to the tradition at the time of top-lit galleries, and are just one reason why this unique space is Grade II-listed. In 1885, electric lighting was installed – an early example of its use in a gallery. And it's just as well that the space is well-lit. North hung her works – oils painted on cardboard in various dimensions and sizes – over practically every inch of wall space and it would be hard to appreciate all their detail without modern lighting.
In 2008, the gallery benefited from a major restoration. 'Mould was found behind the paintings so each one was removed, restored and reinstated,' says Devaney.
As a first time visitor, Devaney led me into its sumptuously decorative interior. 'It's rather overwhelming,' she admits. I had to agree but soon found myself engrossed by the space and its exotic paintings, which also teem with insects and animals and sometimes include iconic buildings, such as the Taj Mahal.
Enhancing the gallery's renovated opulence is its boldly patterned floor, with encaustic tiles in terracotta and blue, and an ornate coved cornice decorated with an Etruscan motif – the anthemion with fanning petals, commonly found in ancient Greek and Roman buildings.
North, who had a huge say in the interior design, imposed order on the seemingly undifferentiated mass of paintings, all with gilded mounts and black wood frames. She grouped them geographically, personally hand-painting the names of the country or region they related to above each section in gold.
Below the paintings are wood panels in rich tones which were wood samples of trees that she collected, such as cypress and cedar, making this an exhibition that appeals to natural historians as much as to art lovers.
North might have co-created a thoroughly immersive space that demands – and rewards – careful scrutiny, but she wasn't precious about this shrine to her oeuvre. Keen that visitors should relax in the gallery, she suggested to Hooker that it accommodate a teahouse. But he rejected the idea since a café already existed nearby. Her riposte was to paint plants associated with tea and coffee in the form of decorative garlands around two doorways.
Despite the gallery's busy interior, its atmosphere is peaceful and not overly formal. Four handsome wooden benches face different walls, allowing visitors to contemplate the artworks in comfort – a reflection, surely, of North's concern for the visitors' wellbeing as much as her desire to preserve her work for posterity.
Dominic Lutyens is a design journalist and author. He has his great-great uncle, the architect Edwin Lutyens, to thank for his passion for interiors. The images in this article were supplied by Royal Botanic Gardens Kew. Visit the gallery to see them in person.