Hidden elements of design: Marlborough Tiles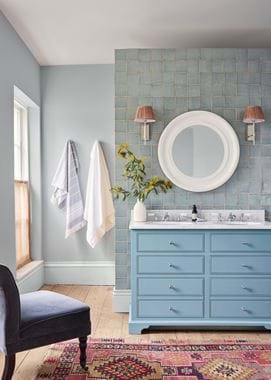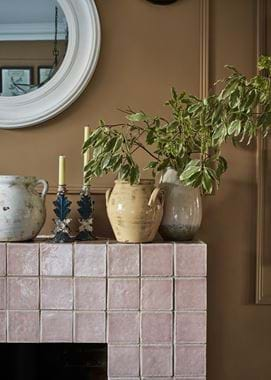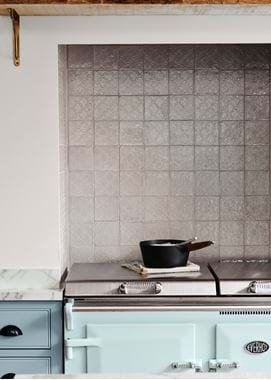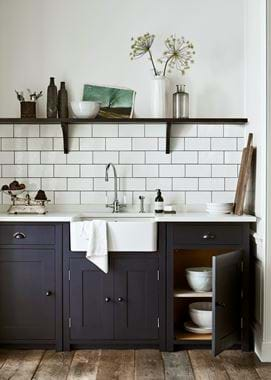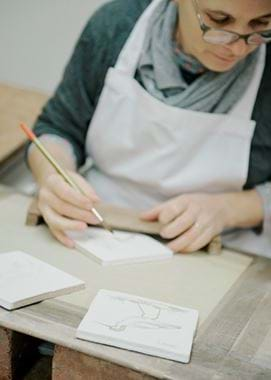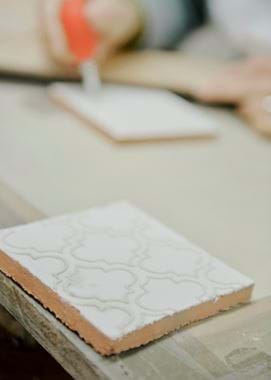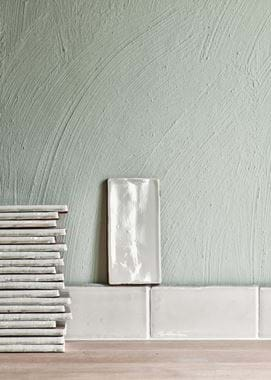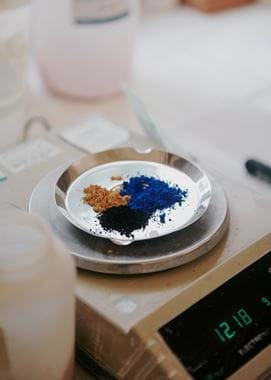 Hidden elements of design: Marlborough Tiles
Craftsmanship is at the heart of everything we create. It's what elevates a piece to the next level by connecting you with the maker. You'll find it throughout those pieces we make ourselves, but we also wanted to shine a light on some of the other brands who share the same philosophy. Here, we caught up with our artisan ceramic tile producers (who create our Elcot design), Marlborough Tiles. Based in Wiltshire, they specialise in skillfully handmade decorative finishes.
There are tiles, and then there are Marlborough Tiles. The third generation family business, today run by Jamie Robb, has become a by-word in quality wall and floor tiles since the company was founded by two indomitable school teachers, Sylvia Packard and Rosalind Ord, in the early 1930s.
Over the years, the company's signature – which is applied to every hand-painted tile – has changed from P&O to O&R, when Hugh Robb bought out the retiring Miss Parkard, and finally to MT (for Marlborough Tiles) when grandson Jamie took over the helm. But through every decade, the business has stayed true to its desire to produce technically advanced, beautiful products that, as Jamie explains, 'all go through human hands'.
Marlborough Tiles' expertise lies in their glazing and colouration skills. The company sources clay from Spain where the tiles are formed, mostly by centuries-old handcraft techniques where the dug-up clay is hand-pushed into the moulds before being left to air dry in the Spanish sun and then fired in traditional kilns. When the unadorned tiles – otherwise known as biscuits – arrive in the UK, the Marlborough Tiles artisans get to work creating bespoke and off the peg glazes and hand-painted decorative tiles. 'We work with 70 different stains to create over 250 colours of glaze,' explains Jamie, 'making and mixing them on site so we can get an exact match and depth of colour. We can even match a tile glaze to a fabric swatch if needed.'
One particularly delicate technique that Marlborough Tiles have perfected is 'tubing', where a pattern is laid onto the glazed tile creating a raised decoration, rather like icing a cake. The tiles we chose to sit behind the blue Everhot stove in these shots are such tiles, in the 'Ettie' design from the 'Ullswater' collection (also pictured are the hand-painted 'Follies' tiles behind the orange stove). Each tile is wonderfully intricate with a hand-piped vintage pattern on the handmade artisan biscuit.
A constant drive for innovation and inspiration has also led to exciting commissions. Harrods' iconic food halls use the tiles and more can be found across the road at the V&A Museum. A collaboration with Neptune led to the Elcot collection (also pictured), a hand-shaped, slightly undulating brick-style tile in four elegant glazes: Fog, Mist, Snow and Salt.
But to the burning question. Which tiles does Jamie recommend for today's kitchens? 'The kitchen is the focal point of a home, but also quite a practical space. Tiles offer an opportunity to introduce a decorative element as well as serving a functional purpose,' he says. While white tiles will always be popular, dark Victorian blues and greens work well in darker painted kitchens. And of course, you can get creative in how you lay out the tiles. For a classic look, Jamie suggests a brick-bond pattern, or for a more modern look, a stacked layout, while a herringbone design will add vintage prettiness. 'Creating tiled wall art is also popular,' adds Jamie. 'It can be framed and, because the tiles are all designed by hand, everything and anything is possible. People have words or even pictures of their home painted onto tiles.'
Grouting, too, offers a chance to experiment. Jamie advises that a white or pale grout against a dark tile – or vice versa – will make a strong, modern statement, literally framing each tile in a grid system. A silver-grey grout will soften the look but, as a general rule, keep the grout in harmony with the tile colour. 'It feels much more timeless,' he adds.