Lucy, Dave & their Suffolk kitchen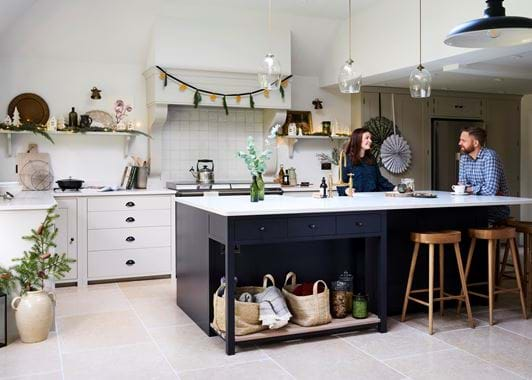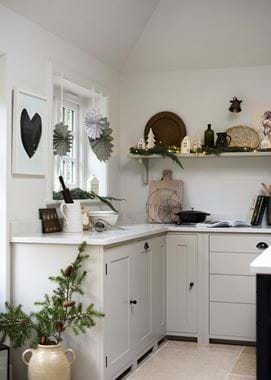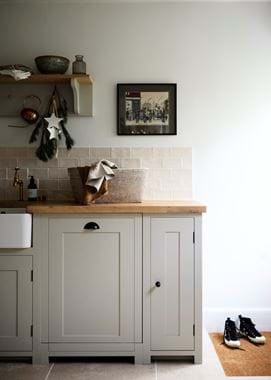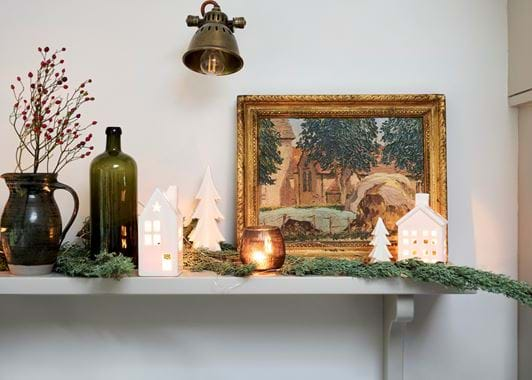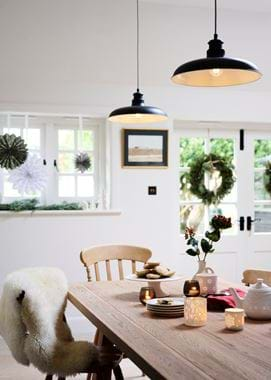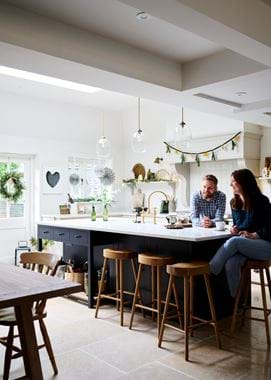 Lucy, Dave & their Suffolk kitchen
This young family moved into their West Sussex home last year and have since set about putting their own stamp on it, one room at a time. We stopped by just before Christmas to take a look around their most recently completed project: the kitchen.
Home profile
This detached, early 20th-century property in Billingshurst, West Sussex, is home to Lucy and her husband Dave, their two children Lola and Jac, Pimpernel the cat and six chickens. Once occupied by the local architect that designed it, the Arts & Crafts inspired house started life as a much smaller dwelling. Multiple extensions dating from the 1920s onwards have created a more generously proportioned home brimming with period features and charming idiosyncrasies, including multiple tall chimneys and a steeply sloped roof.
The project
For Lucy, owning her own Neptune kitchen had long been a dream. 'I've always loved the timeless style and the fact it will last forever. Our budget couldn't accommodate it in our last house in London, so we made do with Neptune handles on the cabinets instead,' she explains. When the couple moved into their current home, the existing kitchen was tired and ill-suited to the space. Working closely with designer Laura at our Hove store, Lucy was finally able to realise her dream.
Settling on the Shaker-inspired simplicity of the Suffolk design in neutral Driftwood after their first visit to the store in October 2020, the couple chose the striking dark blue hue of archive colour Ink to create a contrasting central island – an area of the kitchen that has since become key to family life. 'It's certainly a hard-working piece,' muses Dave. 'Homework is always done at the island, and we eat most of our meals as a family around it, too.'
As for the kitchen's other defining features, a spacious bi-fold cabinet with concealed countertop space and an Everhot range featuring dual ceramic and induction hobs top the list. 'We wanted to have more control over the heat of the range – particularly in the summer – which is why we opted for the dual design, rather than a conventional always-on stove,' Dave explains. The final indulgence, both Lucy and Dave agree, was the large dining table, which needed to be big enough to fit the plentiful proportions of the space. 'We chose the lights to specifically suit the table, too. Until it arrived, they were above a much smaller table which just didn't work at all, so we knew we'd made the right decision,' adds Lucy.
Of course, renovating during the pandemic came with its own challenges: 'The work began in mid-February this year, but took much longer to complete than anticipated. We also decided to rip up and replace the floor with limestone, which was a huge undertaking,' recalls Lucy. 'The kitchen installation process itself was very straightforward though. It was fantastic having fitters that really knew what they were doing and were able to tweak certain aspects in situ – working around the existing ceiling beams wasn't easy, for example.'
Now it's finished, we asked the couple how they would describe their kitchen. 'Light, spacious and very calm – even in the face of chaotic family life! And when the log burner is lit, it's a really inviting room to spend time in.'
Life in their new kitchen
What's your favourite thing to do in your new kitchen?
'Unwinding with a glass of wine in the evening. It's just so nice to have a finished space to relax in and enjoy. We can't wait to use it to entertain family and friends in this Christmas and beyond.'
What could you now not live without?
'The bi-fold cabinet. It functions as a self-contained breakfast area which has transformed our morning routine. And two dishwashers. The second is in the utility and was originally intended for just entertaining. Now we couldn't imagine daily life without it!'
What's next?
'We want to take down and rebuild one of the existing extensions. It already needs a new roof and just doesn't really work with the rest of the house. The sitting room needs completing and we're also in the process of redecorating one of the bedrooms. It's an ongoing room-by-room project.'