The hidden elements of design: AGA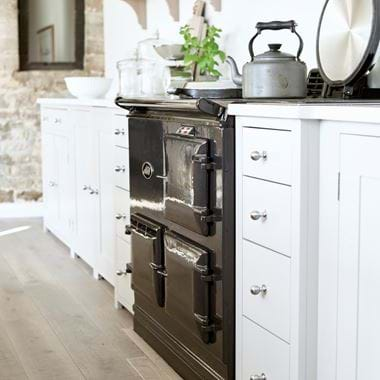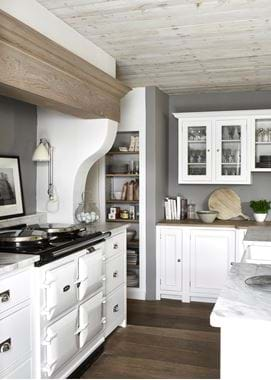 The hidden elements of design: AGA
Continuing our series looking at the design expertise and craftsmanship that elevates some of our favourite brands, we dive into the world of AGA to see just what it is that makes these range cookers such an enduring representative of comfortable family life.
Sketch out your ultimate dream kitchen and chances are it will have an AGA taking pride of place. The range reached iconic status many years ago, and not without reason, as AGA PR and brand ambassador Laura explains: "The AGA has an emotional appeal. It's tactile, beautiful and very forgiving. You don't even have to be a good cook because it elevates the food – potatoes are crispier, cakes are moister. When you have an AGA, it changes your relationship with your kitchen because everyone gravitates to it."
So how did this kitchen stalwart become so popular? Back in 1922, a Swedish scientist named Dr Gustaf Dalen was blinded in an explosion. Convalescing at home, he became aware of how dangerous, dirty and time consuming the family cooking range was. He decided to change all that and designed the first AGA: clean, economical and easy to use.
While he had success in his homeland, it was in the UK that the AGA found fame and was soon being produced at the same factory in Shropshire that it's still made in today. And as testimony to good design genes, it has hardly changed in appearance since then. Its iconic spiral handles, triple enameled body and useful warming rail are all as Dr Dalen imagined them.
In the 1930s, the range was tweaked by Douglas Scott, who went on to design the Routemaster double decker bus, but since then, it has only seen efficiency improvements to reflect the passage of time, such as removable door inners that can be popped in the dishwasher. It has also developed technically, in line with our changing lifestyles. Today, there are electric versions of the classic oil-burning AGA and it comes in a range of sizes, from the slimline 60cm-wide model to the giant 210cm version. "There's an AGA for everyone," comments Jenny Hyatt, sales and marketing director for AGA. "The newer models are electric 'plug and play' types which don't need servicing, but we also have induction hobs on some models and even a grill on the latest AGA. It means we can help people who want the latest technology combined with AGA's unique DNA."
As a hero of our kitchens, its appearance is always a point of discussion. The traditional vitreous enamel exterior colour is Cream, though Linen (a whiter cream) and Blush Pink are popular. As kitchen trends have moved towards darker painted cabinets, so AGA have reintroduced British Racing Green which works beautifully against dark blue or grey cupboards. "And Salcombe Blue is a lovely teal colour," adds Kathryn, AGA's marketing manager, "which looks great in a white kitchen."
But looks and design credentials aside, it's AGA's cooking prowess that makes it the go-to range for cooks such as Nigella Lawson and Paul Hollywood. "The AGA radiates heat from all sides of the oven, unlike a fan oven which heats up an element and then disperses the heat via a fan," explains Laura James. "It's a gentler way to cook, the food is kept moist and the flavour is locked in. It harks back to a traditional way of cooking which was more intuitive. 'Cook in a moderate oven until brown' was the recipe advice of old, rather than a scientifically precise temperature."
It's AGA's tried and tested authenticity which has earned it a place in our kitchens, but it's the range's cosy, convivial pull that has cemented it into our hearts. As Kathryn says, "When you come in after a long day and the AGA is on, it feels like all is well with the world."