Sarah & her Henley kitchen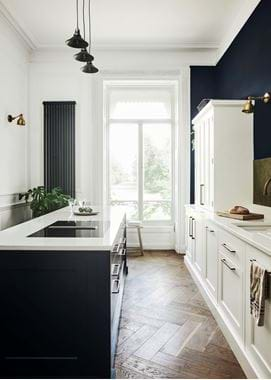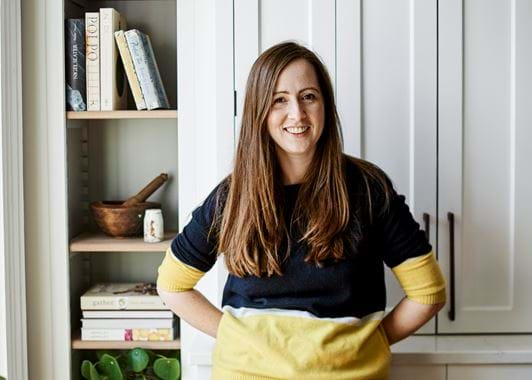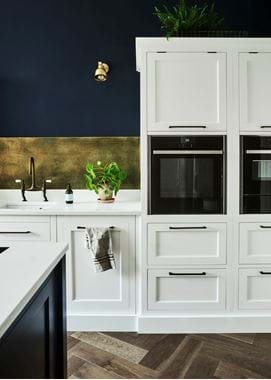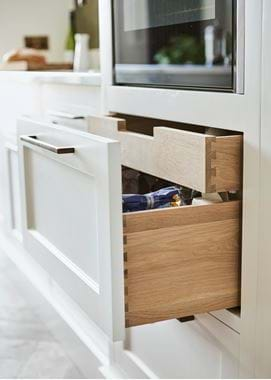 Sarah & her Henley kitchen
When it came to the challenge of transforming a traditional former bedroom into a contemporary and modern kitchen, Sarah opted for our classic Henley design and a striking colour scheme.
Home profile
Once a stately home with extensive grounds and parkland, this beautiful countryside estate near Winchester was divided into fourteen, two to three bedroomed apartments in the mid-20th century. Sarah, her fiancé, Tom, and six-month old cocker spaniel, Ralph, have lived in their first floor, grade II-listed apartment for three years. With renovation works recently completed, their kitchen is now a light and airy space with Georgian sash windows looking out over the surrounding countryside and a contrasting colour scheme of Navy and Snow with a touch of brass, creating a contemporary feel to this historic building.
The project
Sarah's kitchen design project began three years ago with a complete architectural restructure of their home. Modifying the floorplan, adding new doorways and altering the plumbing was a lengthy process but, with time on her hands, Sarah had the chance to imagine her perfect kitchen. While her apartment didn't offer huge amounts of space, Sarah wanted to create a relaxed, comfortable and spacious kitchen, ideal for socialising and baking but without completely diminishing the character of the building.
After visiting several kitchen stores, Sarah came across our Henley collection at Neptune Winchester – 'I spent ages pouring over different kitchens, opening drawers, and I just loved the solid wood inside the Henley cabinets. I knew it was what I wanted straight away.' The kitchen cabinetry was designed with not only style in mind, but functionality and efficiency too. 'I originally wanted blue cabinets,' Sarah admits, 'but we loved the look of the white units against a blue wall and they made the room feel bigger and lighter. Adding the bi-fold cabinet also helped keep our work surfaces clearer too!'
A few difficulties were encountered along the way, particularly with technical features such as the extractor fan needing to sit above the hob (Sarah wanted it to sit centrally on the island). With the ceilings too high, and a hanging fan obstructing their eye-line across the island, Annie, kitchen designer at Neptune Winchester, came up with a solution. Making use of our bespoke service, Annie incorporated an inbuilt extractor fan into the Henley cabinetry below, so Sarah's dream to have the hob on the island was fulfilled without forfeiting the kitchen's aesthetic and functionality.
The once traditional apartment is now a comfortable and contemporary home for Sarah, Tom and Ralph, where Sarah enjoys bread-making, eating brunch and soaking up the surroundings of her dream kitchen. 'It's everything I envisaged and more. I wanted it to feel timeless, light and spacious,' Sarah tells us. 'I can't quite explain how wonderful it is, it's a true pleasure to be able to live in it everyday!'
Life in her new kitchen
What's your favourite thing to do in your new kitchen?
'Make pizza and enjoy a glass of wine with friends!'
What's your favourite part?
'The bi-fold cabinet as I can shut everything away and out of sight! That, and my spice drawer – that's been a life changer!'
What could you now not live without?
'The whole kitchen! I couldn't live without it. We're redoing our living room at the moment, so with that out of action, we use the kitchen for everything.'
What's next?
'Sadly, we're going to need to upsize soon, but we'll still be in the area, so I'm already planning my trip to Neptune Winchester for the next kitchen! I think it will have all the same designs and colour scheme, but will be more spacious, with room for a dining table too. I just hope that whoever inherits this one appreciates it as much as we do now.'
If you'd like to start on your own kitchen project, you can arrange your first, free consultation with your local Neptune store.