The beauty of linen in the bedroom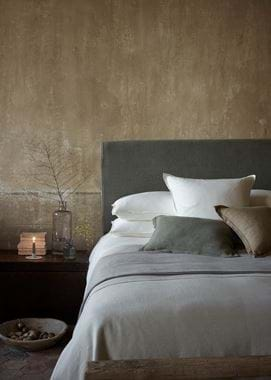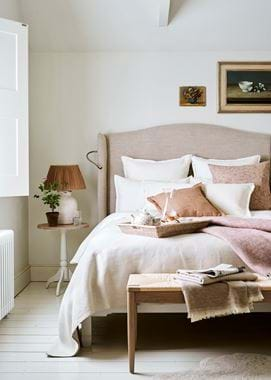 The beauty of linen in the bedroom
With summer now behind us, thoughts turn to layering textiles in our bedrooms that will keep us comfortably cosy as we sleep. But, as it turns out, linen – a fabric normally associated with the warmer months – has a part to play all year round too. And, in our book, not just any linen will do...
A little crush
The terms pre-washed and stonewashed are thrown about a lot when it comes to linen. The former is essentially to reduce the likelihood of linen shrinking, and the latter is as it sounds – the cloth is tumbled with stones (typically pumice and lava stone) in a large washing machine to stretch and soften the fibres.
The downside with stone washing can be the level of crumpling. It really does give rise to that crinkled and creased linen look, which, while laidback, can be a bit too much to handle for some. Enter crushed linen, like our Edith.
This finish is your happy middle ground, your 'rumpled but not too rumpled' result, your effortlessness but not without your elegance. Crushed linen is still beautifully soft against the skin, but there's a hint of linen's quintessential crispness. Happily, it also boasts one of the best character traits of all – it needs no ironing. Simply wash it, hang it, and it will dry with its lightly crushed effect intact.
What style of room does crushed linen bedding suit?
Another upbeat response – absolutely all interiors get along very naturally with crushed linen.
There was once a preconception that linen sheets were only the reserve of the bohemian home with its devil may care attitude; the French-inspired interior where everything is effortlessly chic and a little undone; or the bachelor city pad where it helped to give the illusion that the constantly unmade bed was an informed, laissez-faire style choice.
The reason for the rumour was down to the heavily crinkled aesthetic that we spoke about a few paragraphs ago. But with the subtler linen creases found in crushed linen, it opens up a world of opportunity to enjoy linen's easy character in a wealth of homes. Admittedly, it will never have the sharp tailoring of cotton bedding that was made for tucking taut under the mattress – if Downton Abbey levels of refinement are the goal, then look instead at Albertine.
Otherwise, from a provincial cottage bedroom with twin beds for little ones to a modern townhouse master bedroom that's somewhere between classic and contemporary in design, crushed linen works a charm.
A question of origin
France, America, China, Estonia – flax fibres (from which linen yarn is spun) are grown all over the world. So does it really matter from which country it hails or is it all one of the same thing?
The answer is no. Crops vary hugely in quality depending on the soil type, the lay of the land, but more than anything, the climate. Call flax fussy, but it likes fine, fertile clay soil in a setting with mild temperatures and high moisture levels. And try as many territories might to mimic these conditions, it is Belgium that's heralded as producing the finest flax in the land. Linen that is grown here is generally agreed to be the crème de la crème of linens. You know your bed linen is going to be woven from the plants that yield the longest flax fibres responsible for the softest, strongest linen.
Much like with chocolate, Belgian is best.
Not just a fair-weather option
And one final word to say about crushed linen bedding like Edith and Ardel is that another big part of what makes it such a beautiful textile to have in the home is that it works wonders well beyond summer.
Being a natural fibre with no other man-made additions to stabilise it (it just doesn't need it), it's incredible breathable. That's what makes it your cool-aid in summer. But it's also more than capable of keeping you snug as a bug in winter too. Flax fibres are hollow, ergo they're born-ready insulators. Plus, the weave is looser in linen than in cotton due to the longer flax fibres, which helps your body to regulate its temperature, keeping warm air in when you need it most and sending it on its merry way in when things get too toasty.
See our linen bedding here.