Ali & her Suffolk kitchen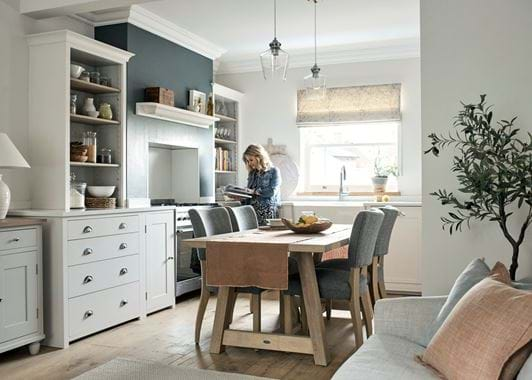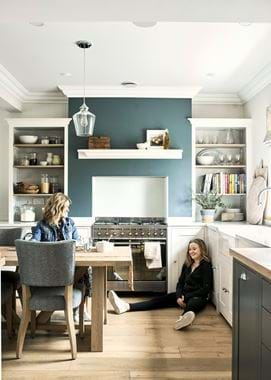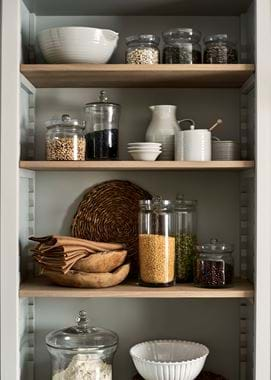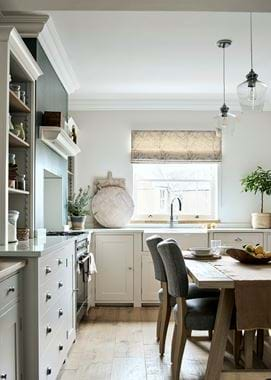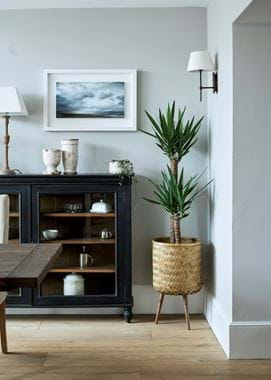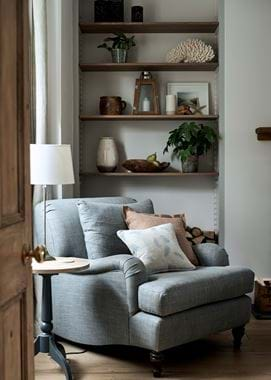 Ali & her Suffolk kitchen
When the Laslett family left their Canterbury home over ten years ago for a stint of living and working in the US, Ali and her husband, Rupert had two small children under their wing. Now they've returned, but with two teenagers and a whole new interiors perspective thanks to years of being surrounded by Californian decor. And so renovate they must, to turn their original family home into one that grows with them. 
Home profile
Home to the Lasletts is a double-fronted, red-brick Victorian property, built in 1871 and just a short walk into the heart of Canterbury. Inside its dark sage front door you'll find Ali, Rupert, their son, Miles and their daughter, Grace. Work took them overseas in 2008, first to Texas and then, five years later, to laidback California, and so they rented out their recently-remodelled Canterbury home, knowing they'd come back to it again one day.
The project
It was during a visit back to Britain in December 2018 that Ali began her preparations for bidding a fond farewell to the States, setting her sights on her old home and how to make it their own all over again. 'I essentially rocked up at Neptune Canterbury just before Christmas and it's been my second home ever since,' laughed Ali. 'Planning these projects takes a long time if you want to get it spot on, like I did, and I didn't want there to be any sense of rushing around. Neptune were happy to be slow and steady and to not put the pressure on at any point. It was ideal. In fact, I ended up with far more than just a Neptune kitchen. There's a sense of Neptune in almost every room.'
Ali and her kitchen designer, Lily, started preparations in the new year, but with oceans between them, you'd be forgiven for thinking that may be a trifle tricky. A weekly FaceTime call made the process miraculously smooth, and in fact, may have even made the design process more informative according to Ali. 'It was a funny old thing really,' she recalled. 'I had a good look around the store at Christmas, knew that I wanted the Suffolk kitchen, and took samples and all sorts away with me, but I remember saying to Rupert, how is this going to work with thousands of miles between us? But it did, beautifully. Every Tuesday we'd have our FaceTime call, and despite eight hours' time difference to contend with, it still worked. I'd be having my 8am cup of tea in California while Lily would be having her 4pm Canterbury version! I looked forward to those calls so much.' And on the point of how it enabled the design process: 'Because it was on video, Lily could see my Californian home and I could show her around. It meant she could really see how I was living out here to better understand how we were going to get that to translate back at home.'
Open-plan, spacious and communal is how Ali described the interior of her home in America. They were qualities that she wanted to really feel in her new Neptune kitchen, but was concerned how that might work in a traditional Victorian property. And while there was a beach-like character, there was nothing overly styled or regimented about Ali's way of decorating. She favoured eclecticism and a feeling of warmth and comfort. 'I dreamt of having a wood burner going and everybody being in the same space together – friends and family. We're very sociable people. That was a key part of the brief I gave Lily really,' Ali continued. 'Lily became a part of the kitchen. I couldn't fault her. She pretty much moved in to make sure everything was perfect for us, and we were so grateful. It really felt like she wasn't just trying to design a beautiful kitchen for us, but to respect our budget for the long-term and to create an investment. She said to me, you'll still love this in 50 years, and I think she's right.'
Other mentions on Ali's kitchen wish list included a double Belfast sink, complete with waste disposal ('I can't fathom how they aren't as popular in the UK as they are in the US,' Ali puzzled), an oak work surface in at least one section, lots of texture and a few contrasting colours, and what she referred to as 'a sort of dresser affair' (which Lily created either side of the cooker using countertop cabinets with open shelves). There were plenty of aspects that she hadn't realised she wanted until Lily introduced them, such as her floating Buckland shelves. 'I absolutely love them,' she said, beaming. 'I have these hidden LED strip lights behind them that give off the nicest glow. Sometimes I just have those on and nothing else. I don't have anything of great interest on those shelves but they're one of my favourite bits of the kitchen.' Ali had also initially wanted an island like she had in California, but they later decided to change that to a large kitchen table. 'This was a different home, with a different feel, and the table felt like a natural evolution that did the same job that I wanted the island to perform, but in a more fitting way. I loved it so much I ended up having the lighter oak Arundel for the kitchen and the darker Arundel for our dining room.'
'My kitchen has fulfilled every wish and want I could've imagined. We left with young children and returned with young adults, and so this is a totally different home now. It's a grown-up's home, and the renovation had to reflect that. It's an absolute joy for us and for them. They get their bellies filled and we spend time as a family here, even if we are all on our phones. Such is modern family life!'
Life in her new kitchen
What's your favourite thing to do in your new kitchen?
'To sit, put the wood burner on and have a cup of tea. Or, more importantly, a glass of fizz with my friends with a curry bubbling away on the stove. That's me all over really. I love to cook and entertain.'
What's your favourite part of the new kitchen and why?
'The Quooker tap – it's revolutionised my life! To begin with, I missed the ritual of putting a kettle on but that went within days. I said to my family, we're nuts! Why didn't we ever have one before! I also love my new storage system. Gone are the days of having 75 tins of out-of-date beans. Now I can see exactly what I have in, so nothing goes to waste anymore.'
What could you now not live without?
'My kitchen table. It brings everyone together and the Mowbray chairs in Elliot Granite remind me of my Scottish roots. There's something about the textile that just feels very Scottish. And they're so comfortable that you just don't want to get out of them.'
What's next?
'Absolutely nothing! We'll be unpacking the last of the boxes and then we're going to settle down in our new family home. Heaven.'
If you're looking to start your own kitchen project, contact your local Neptune store and speak to one of our kitchen designers. They're here to help, be it over the phone or video chat.