Freshly laundered: the simple joy of our household collection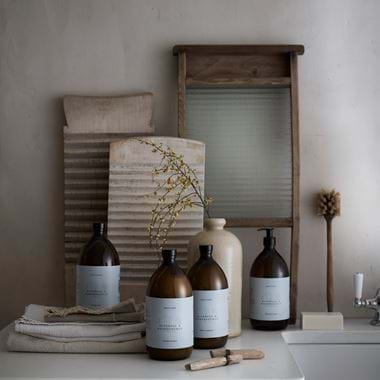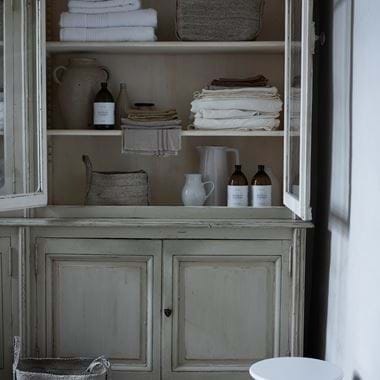 Freshly laundered: the simple joy of our household collection
Just because something's practical, doesn't mean it can't also be a joy to use – that's the philosophy behind lots of the things we create at Neptune, from handwoven rattan baskets for storage to oak dividers for kitchen drawers. And it's a philosophy that extends through to every inch of the home, including the utility room.
A couple of seasons ago, we introduced our first ever bath and body collection, Rosemary & Thyme. Now, with another scent under our belt – Bluebell & Honeysuckle – we've branched out into laundry and household as well. Including fabric conditioner, laundry detergent, ironing water and washing-up liquid, we've created this collection so that even the most everyday tasks, like cleaning clothes and dishes, is elevated. Here's how…  
1 They're made in Britain
Whenever we're looking for producers to work with on pieces for our collections, it's always with expertise in mind. And, when it came to our bath and body collection – and then household – that expertise was right under our noses in the English county of Buckinghamshire. The team there craft fragrances inspired by the nearby countryside before partnering with other British makers to formulate and bottle each scent. Ethics is the other quality we're always looking for, and so we also chose a maker than never tests on animals and is committed to supporting other local businesses.
2 They're gentle but effective
Whether you're worried about sensitive skin or our sensitive ecosystem, you can rest assured that there are no chemical nasties in our household products – just the ingredients that are needed to make them work as you'd expect (and to delicately scent them). So, your washing-up liquid will bubble up nicely, your conditioner will soften and your detergent will whisk away dirt, all without causing harm your skin, the fibres in your clothes or the wildlife in our waterways.
3 They're kind on the environment
As well as being low in chemicals, there are other ways we've considered the impact on the environment. Firstly, we've used recycled and recyclable glass wherever we can, with only the pumps made from plastic. They're all refillable too – just bring your empty bottles into one of our stores (once they're back open again) and we'll refill them for you.
4 There are two, natural scents to choose from
We think all the best fragrances take their cues from the natural world, which is just what these two do. Choose from Rosemary & Thyme – an energising scent with citrussy top notes of bergamot, petitgrain and green mandarin, herbal rosemary, thyme, basil and geranium mid notes, and a mossy, woody base – or Bluebell & Honeysuckle – a spring-like scent made with top notes of cut grass, clove, hyacinth and bergamot, floral mid notes (including honeysuckle, bluebell and wild flowers) and an earthy amber and musk base.
5 They look as good as they smell
Looks aren't everything – and they're nothing if they're not backed up by considered function too – but we do think they're important. It's actually one of the main reasons we wanted to create bath and body and now household products: we think that every part of your home should be lovely to look at. Which is why we've packaged this collection in brown glass bottles with simple, elegant labels, so they'll look just as good sitting in your kitchen or utility room as the room itself. And even if they're tucked away inside a cupboard, the hope is that you'll enjoy opening the doors to see a calm arrangement of bottles inside, and enjoy the substantial feel of the glass as you pick them up. It's the little things.
You can browse all the washes, detergents and lotions in our household, bath and body collections online here.