How to tidy up your background for video calls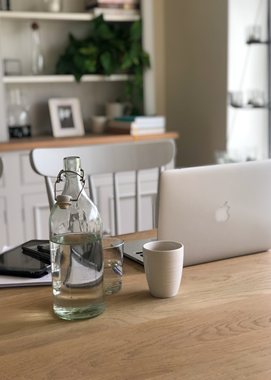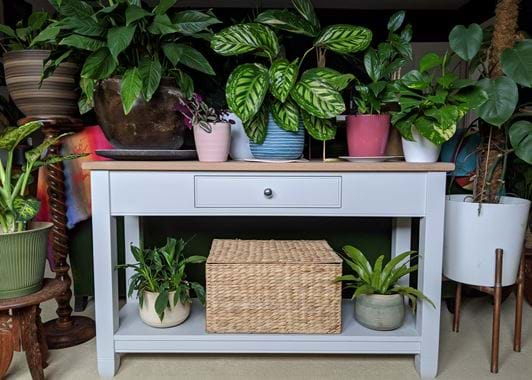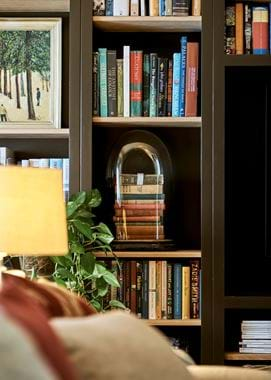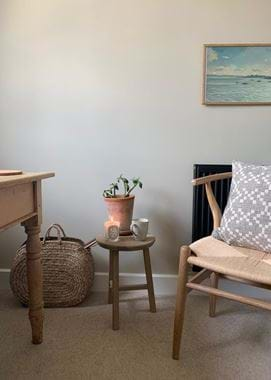 How to tidy up your background for video calls
If you're working from home, chances are the last-minute dash to tidy up your home office before a video meeting is an all too familiar situation. It certainly is for our in-house writer, Heather, and so she's here to share some of the tips she's picked up from the Neptune team over the past few weeks of calling them from her own home's kitchen.
In the interest of being real, you should know that my 'home office' is not a picture-perfect Neptune one, as much as I wish it was. It is, in fact, my husband's desk, which I've somewhat reluctantly allowed to be in our open-plan kitchen and living space, if only because it means that we don't spend evenings in separate rooms. Right now, it features our combined collection of black cables, which I studiously try to tidy away each evening, what feels like half the contents of the bookcases at Neptune HQ (a writer can't really write without three different dictionaries and every back issue of Stories, surely?), and my desk chair, also temporarily borrowed from the office, that may not be very stylish but is, importantly, very comfortable. And as for what's behind me? Invariably, it's a collection of waiting-to-be-washed dishes sitting on the kitchen work surface. So, while my own view is of the bookcase that divides our kitchen and living room, filled with all my favourite cookbooks and crockery, the one my colleagues see in every video chat is decidedly less flattering.
However, while my background-tidying skills are woefully lacking, I have been witness to some much more professional and pretty backdrops in the past few weeks. Here's what I've gleaned with each team meeting for both you and I to take note from
Make a move
If, like me, your desk is a temporary space in a less-than-tidy setting, then simply move your laptop to a better styled one when you know a video meeting is approaching. This is a tip I've picked up from Neptune's marketing director, Fiona: while one early video call featured her box room – named, literally, for the slightly higgledy-piggledy collection of storage boxes it contains – others have been taken from an armchair with characterfully-styled Pembroke shelves behind. Other Neptuners have been sat with their backs to antique headboards and garden planting schemes. You don't even have to move rooms – product designer Elise has simply moved an armchair so it sits in front of a pretty view out the window (if you do this, make it a not-too-sunny window). Personally, I think I'll make my George armchair on the flipside of the aforementioned dividing bookcase my next meeting spot.
See this as an opportunity...
…to give a plain-Jane spot a little love and claim it as your new home office. Lots of us have those in-between spaces (such as on landings) or even whole forgotten rooms that we've always meant to do something with. And all it would really take is a lick of paint (even if you're not ready to commit, this might be the time to crack out those tester pots that have been piling up and experiment) and a picture hung on the wall. Then, either place a desk and dining chair in this spot (console tables make great makeshift desks) – with your back to the wall – or an armchair and side table depending on how you like to work. All of which could be done in a weekend. It's just what our stylist, Meaghan, has done in her recently-moved-into home, quickly transforming a yet-to-be-used bedroom by simply painting the walls in our dramatic Ink shade. 
Create a distraction
With so many of us living (and now working) in open plan spaces, no wonder it's an uphill battle to keep video call backdrops looking good. One way to combat the problem is to take a leaf (pun intended) out of Neptune graphic designer Krystle's book and surround your setting with greenery. By placing a Chichester console table back to back with her Olivia sofa (her morning workspace of choice) and topping it with potted plants, she's screened her exercise area behind and created a backdrop that's a vision of serenity. Not all of us have a house plant collection as impressive as Krystle's, but you could achieve much the same effect with piles of hardback books or (tasteful) family photographs instead.
Nothing is better than the wrong something
If all else fails, a blank wall as your backdrop may be a tad dull, but it's certainly an improvement on an untidy and distracting scene, and is nothing if not professional. Add in a vase of flowers, a lamp or a candle (make sure to light it before meetings) to your side and hey presto, you've got yourself a background that says, my home is a place of calm not chaos, and none of your colleagues need know otherwise.
Got a few working from home tips of your own? Eager to share your own beautifully-styled backdrop? Tag your photos with #myneptuneworkspace on Instagram and we may well include them in our story over the weeks to come.