Looking to tradition: the history of letter pressing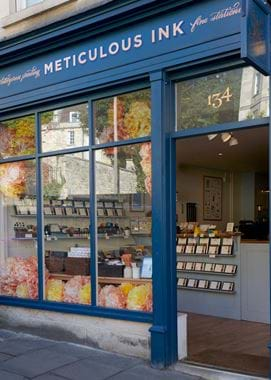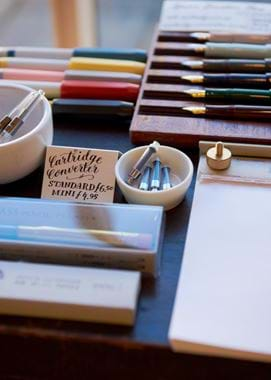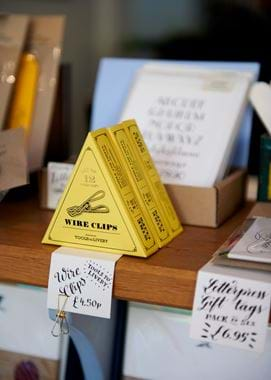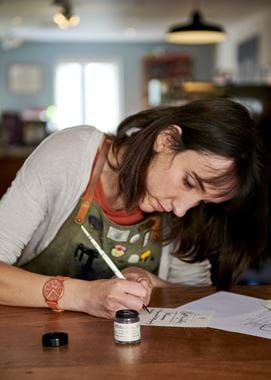 Looking to tradition: the history of letter pressing
This autumn, our interiors anthology, Stories, turned ten-issues-old. So, to mark our entry into double digits, we've dug into our archives to bring you nine articles from the nine previous volumes. This is the sixth, taken from our autumn 2017 issue. And you'll find the rest right here on our journal now and in the weeks to come.
This season, we're thinking more about traditions that have been usurped by modern life, but which are nevertheless being championed, more and more, by younger craftspeople. And in doing so, we came across one small, local business in particular, whose values are very much in line with our own and that we certainly thought were worth sharing with you – Meticulous Ink. A brand with an obsession for detail, a belief in doing things thoroughly and  properly, and a genuine love and pride for what they do.
At Neptune, we have a general interest in the relationship between tradition and today. So, with contemporary craft always at the forefront of our minds – whether it's concerning our own making methods or not – we thought an article on the craft of letterpress printing might be one you'd enjoy reading about as much as we did researching it. It's a process with a 600-year-old history, but that's been modernised in more ways than one.
We visited Meticulous Ink, a small but exquisite fine stationers in Bath, who use two, one-tonne Heidelberg letterpress machines in their tiny Walcot Street studio. A talented team of three – Athena, Peter and Zoë – they shared with us the history, the process, the techniques behind the art.
Gutenberg's hand-press machine created 180 copies of the Bible. It was 1,282 pages long and took him and his team of 20 almost three years to make. There are 48 copies in existence today.
"The first printing press we ever got was a second-hand Block Master from the eighties. It was this lovely little foiling press," said Athena Cauley-Yu, the very smiley, very expressive, and very down-to-earth co-founder of Meticulous Ink.
"It was not lovely!" chimed Peter Grosvenor-Attridge (who does most of the illustration work) and Zoë Ross (their resident printer). "You weren't the one having to use it all the time!"
From this opinion-dividing tabletop press to machines much bigger, Meticulous Ink then went on to buy two Original Heidelberg Windmill letterpress machines, c1960. "These are the real deal. Huge, heavy, clanky, solid, albeit a little temperamental," Athena continued. The two machines in question – sometimes referred to as 'red ball' presses (because of the red ball-topped lever on the front) – stand proud in their studio. The team use them to create most of their bespoke stationery, as well as the collection of cards that they sell in their small shop and in some of the UK's biggest premium retailers, including Selfridges and The Conran Shop. 70–80% of their designs are letterpress printed.
Letterpress is a printing technique that makes a direct impression of words or drawings onto paper or card using pressure and ink. The result is debossed, so the design almost becomes part of the paper, sinking into it rather than sitting on top. It's imprinted, engraved. "You just can't achieve this kind of textured print with modern techniques," said Athena.
The process first appeared in Europe in the 1400s, though in China, they'd been using similar methods for 400 years. It was the primary form of printing in the West for more than five centuries. "Everything was letter pressed – the only other option was to write things by hand. You can imagine then, that it was a bit of a revolution when letterpress first came into being. A bit like the advent of the internet for us," explained Zoë. "Gutenberg (Johannes Gutenberg, the inventor of the printing press) used it to produce multiple copies of the bible, giving more people access to literature." Back then, it was nothing to do with achieving texture; it was a means to produce text on a larger scale, quickly. Nowadays, we want to use a traditional technique, but to create as much texture as possible. Speed isn't really part of the equation.
The traditional process of letterpress used wooden blocks with a carved letter of the alphabet. Ink would be applied and the letter stamped onto the paper – much like the process of block-printing on fabric. This evolved into 'metal type', which provided more clarity and was faster to produce and replicate. The letters were assembled onto a frame to create pages of text with spaces and rulers for alignment – hence the origin of the term 'typesetting'. It's also where the phrase 'mind your Ps and Qs' came from, as it was very difficult to tell the difference between the two. 350 years passed and the printing press design barely changed.
While Meticulous Ink has a charming, antique plan-chest containing the original metal type, they use a more modern technique day-to-day – photopolymer plates. These first came about in the 1980s and transfer a negative of the design to the printing plate. "It gives us the freedom to do whatever we want in terms of design," Athena explained. "We illustrate (Peter and Athena do all of their illustration work by hand) and typeset our designs, and then send them to a company who create the plates for us. We then use these on the presses. We've adapted one of the machines so that it can be used for foiling too (a type of letterpress printing that uses metallic foils instead of ink)."
Zoë is the master printer at Meticulous Ink. She learnt the craft from Charlie Cumming (who founded Meticulous Ink with Athena in 2010) and a gentleman called Simon Smallwood. "He was the real master. The letterpress community is a friendly one. He befriended us and taught us what we know. Sadly, he passed away last year. He was an incredibly-skilled craftsman and made us the beautiful wood-turned stamp that we use for our wax sealing. He's a part of everything we do," said Zoë. We watched her print an order of ceremony card for a wedding stationery suite. First, she uses the Pantone® system to blend the exact shade of ink required for the job. She then spreads a small amount across the metal roller (for a larger print run, she adds it to the ink duct), adjusts the other rollers and sets the machine off to disperse the ink throughout. It makes such a satisfying, continuous rhythm of whooshing and pumping. As one sheet of paper is picked up, the arm swivels and deposits a printed piece on the other side for inspection. "There's so much to check at every point and I have to make a lot of adjustments, from the impression to the positioning to the depth of colour. Perfection is possible, but it can take a few 'duds' to get there."
Letterpress. A traditional technique, that's matured, changed, evolved and continues to thrive. It's a slow process.
It's one that requires meticulous people.