Jane & her Limehouse kitchen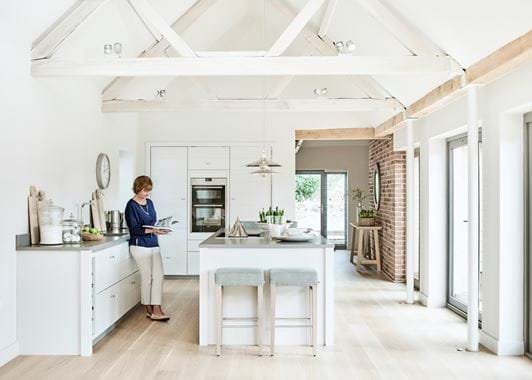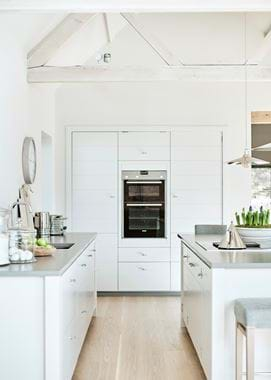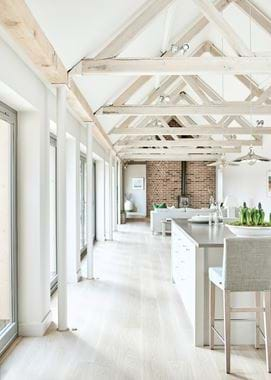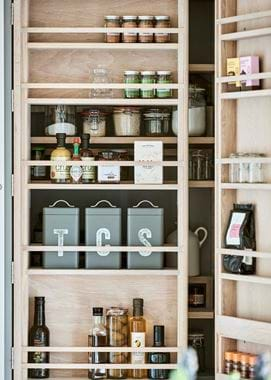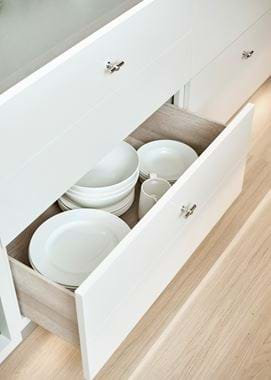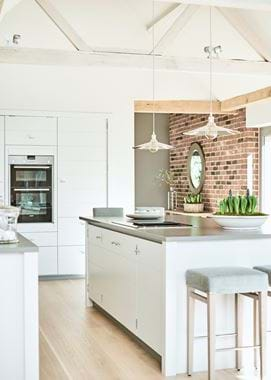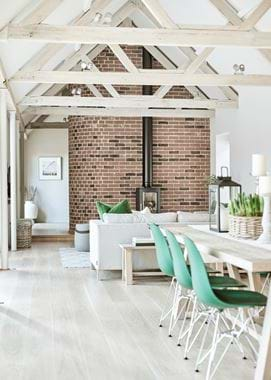 Jane & her Limehouse kitchen
Limehouse is known for being our more obviously contemporary kitchen collection, and because of that, it's a home story that we don't get to tell quite so often. But here, Jane and her husband, Brian, show just how well its strong, crisp lines suit a softer, older building full of beams and exposed brickwork.
Home profile
This is the home of recently retired Jane and her architect husband, Brian. They had been living at the family home in Kent, biding their time until the perfect bolthole property came on the market for them to snap up and start afresh somewhere with a slower pace of life. So when, as Jane described it, 'a derelict shed' became available in a very rural Norfolk hamlet where they'd mainly have open fields and oak trees for neighbours, they took the plunge and became its proud owners. It had been a long-term plan of theirs to refurbish a disused barn and relocate. But instead of a barn, they chose a former L-shaped cart shed and piggery. Inside, it's large enough for two without losing any feeling of intimacy and cosiness. They added plenty of glazing to fill it with natural light, exposed the brick on several walls, let the washed oak trusses shine with pale oak floorboards to mirror them, and then turned their attention to the space that would soon become their dream kitchen.
The project
"I knew of Neptune already. I'd read about you and seen your kitchens in lots of interiors magazines, but it wasn't until we went into our local store at the time – Neptune Tonbridge – that we really got it," Jane told us. "This was well before we'd even found our Norfolk home. As soon as we saw Limehouse we said, now we just need to find a house to put that exact kitchen and that exact layout in!" It was always going to be Limehouse for Jane and Brian. They had a moment of temptation to choose the Shaker-style Suffolk collection, knowing it would have suited the style of their property and thinking that was what they'd like most when they came in to look at our kitchens in person. But Limehouse took them by surprise and it changed their view entirely. "We were both drawn to it straight away. It isn't as contemporary as you first think. It's more about incredible attention to beautiful detail which gives rise to a calming, consistent display of simplicity. So many contemporary kitchens are shiny and cold, but with Limehouse, you have the warmth of the wood that comes through beautifully which helps it to sit well in an older style of property. The lines on the cabinets, the design of the handles and the Plant paint palette all resonated with us, and the store experience shows you how it all comes together. Plus, the level of thought apparent in the internal cabinetry gave Neptune an edge over everything else we'd seen," she continued.
Jane and Brian found their home roughly 18 months ago, and when they did, they realised their closest Neptune store would no longer be Neptune Tonbridge, but Neptune Canterbury. "We hadn't even exchanged contracts. But I was in Neptune Canterbury straight away, jumping into deep design conversations with Lily, our kitchen designer there. I'd constantly be popping to Neptune Canterbury, sitting in the Limehouse kitchen area with a coffee, picturing life with it in my home. I did it for months!" Jane remembers, laughing. So excited she was about designing her Neptune kitchen, Jane kick-started the process over a year before her kitchen was fitted. "Lily seemed so happy that it would be a long process and totally understood our excitement to just start playing with ideas, even if we couldn't do too much just yet, which we really appreciated. She seemed as happy and eager as we were."
The design process involved much more than just choosing cabinetry and colours. Lily was able to show Jane and Brian a room plan with their oak trusses, their glazing and their furniture choices so that they could really see the whole space taking shape and be confident in their final selections. "We did make a few last-minute tweaks. There was a complication with our kitchen island in that we decided we wanted it a bit narrower, which in turn affected the choice of extractor meaning we needed an integrated fan to be built in to the hob. Lily just sorted everything for us. We were going on holiday and she just told us to go, enjoy ourselves and she'd research it all and make it happen. It was above and beyond her call of duty really. She made us feel like we were her only customers."
Everybody has a wishlist when they set down the path of a kitchen renovation, and Jane was no different. Having seen Limehouse's capacious larder, that became an absolute must for her, but otherwise, she was open to being flexible. She noted that she'd love to have an island, lots of storage and a hob that looked out onto the garden. Brian's big area of focus was the lighting, being drawn to the strip LED lighting at Neptune Canterbury just above the kickboards and below the work surface. "It makes the kitchen look like it's weightless and floating at night time – it's the most wonderful atmosphere," Jane added. "I ended up with other pieces in the kitchen that I didn't even know my heart was hankering after. My chopping board and tray blocks, the huge drawers with the clever inner drawers, the wine rack, and the fluid arc of movement that Lily created with the layout. I wouldn't want my kitchen any other way."
Life in her new kitchen
What's your favourite thing to do in your new kitchen?
"I love sitting at the island and looking out onto the garden terrace and the fields and trees beyond. It's a simple pleasure that makes me so happy that we made the life decision to move here."
What's your favourite part?
"The island again. I prep here, I cook here and we socialise here. We get lots of visitors now as you can imagine. Our design has made this part of our home so much more sociable."
What could you now not live without?
"The amount of storage space. Every cabinet and drawer feels clutter free which is incredibly enriching. It's given us a totally different style of living. Life feels calmer and happier, and that's not just because of Norfolk. Our Limehouse kitchen plays a huge part in that."
What's next? 
"Internally, we're all done. Next is finishing the garden. The hard-landscaping has been completed but we need to turn our attention to soft planting and garden furniture. I have my eye on your Stanway garden table and chairs already!"