Ways with paint: warming up a cool palette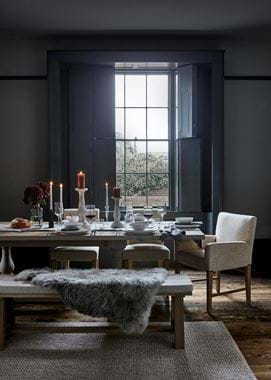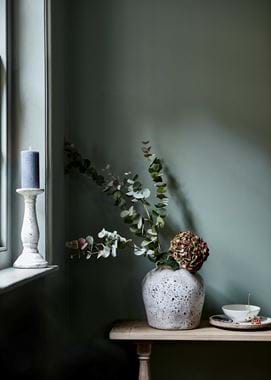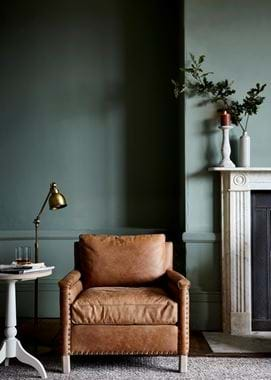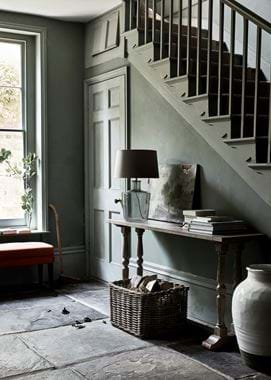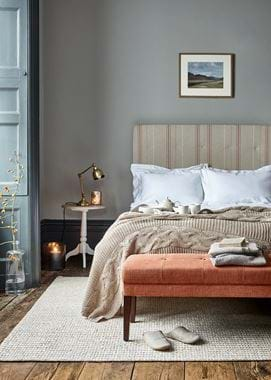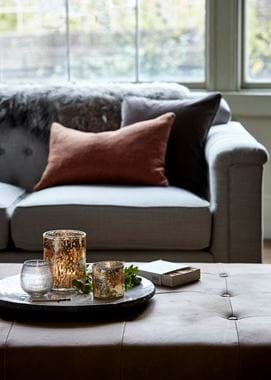 Ways with paint: warming up a cool palette
Colour specialists often refer to temperature, meaning whether a shade is either warm or cool. A quick look at the colour wheel and you'll see how reds, yellows, oranges and creams fall under the warm umbrella, whereas blues, greens and greys are typically cool. But the two aren't mutually exclusive. A room painted with warmer tones won't feel as though there's a fire roaring with paint alone; a warm-painted room can still feel chilly. By the same token, cool walls can be warmed up to be as cosy as they are calming.
Most people naturally gravitate towards one side of the colour wheel, whether it's the warm temperature tones to the left or the cool ones to the right (or vice versa, depending on which colour wheel you're using, of course). Perhaps the vibrant, energetic character that warming orange or burnished red will bring to your room appeals most. Or, the quieter, soft and soothing ambiance that cooler colours like grey and blue provide could be more suited to your style and the personality of your home. If the latter is the case, and you're concerned that using cool shades will cast a chill, here are a few ways that you can help to warm things up.
Get some help from the sunny side
You might prefer cooler tones, but if you rely on them entirely, your room won't just feel a little cold, it'll fall a bit flat. Borrow from the warm side of the colour wheel to bring in a couple of accents that'll add lift and contrast. It can be as simple as an orange-based candle to break up a grey scheme or a russet-tinted spray of eucalyptus in a vase that disturbs a sea of green. They're hints of warmth rather than swathes.
Remember that timber is a colour
Using warmer colours in a cool colour palette can also be done through wooden accents. Timber floorboards or exposed oak in your furniture is all part of your room's colour scheme. Crisp grey, green or blue walls are made cosier with a wooden floor, and in the image of the vase, an oak console provides a dose of warmth to an otherwise decidedly cool look.
…as are neutrals
Neutrals fall into two camps. Look at what their base tone is – if it's a pale cream with a blueish or white undertone then it's a cool neutral. (White might not be a colour – in fact it's the absence of all colour – but it's still considered to be cool. Whereas black – also not a single colour but a combination of every shade – is deemed warm.) On the other hand, if it has a yellow-like base colour, then it's a warm neutral. Combine a wooden floor with an oatmeal rug and your floor will have two layers of pared-back warmth that'll ground the cool colours on your walls.
Texture has a part to play
Texture is one of the three colour elements of designing a scheme (colour and light being the other two). And there are two points to make.
A navy blue velvet sofa will have a very different feel to a navy blue linen sofa. The former will feel distinctly warmer than the latter, despite both being a cool blue tone. This means that you can devise a scheme with different degrees of warmth even using your favourite cooler colours. And it works the other way around too. If you're concerned about having too many warm tones, use lightweight, understated textures, like finer linens and light-reflective, glossier finishes over matte ones.
Colour aside, the mere presence of different textures in a room will always turn up the temperature purely on the basis of there being more things to touch and feel – the fuzz of a sheepskin rug, the drape of a chunky throw, the gleam from a glass vase or lamp.
Think about the base tone
Colour is complicated, and it's not always as straight-laced as saying one shade is cool and cool alone. It comes back to the base colours. A pink could have a blue base, a green can have a yellow base, a brown can have a hint of red to it. Colours are collaborative things, blended with the help from one another. And so, you can speak to a colour expert (our home specialists in every Neptune store can help) to pick out a cool paint tone that has a warmer base, or if you want to keep your room predominantly cool, ask for advice on picking warmer accessories that still have some coolness to their base. This way, you can create the atmosphere you intended, with the subtlest variations in colour that'll warm up but not take your scheme into warmer climes entirely.
For more colour and paint advice, speak to a specialist at your local Neptune store.