Sharon & her Chichester kitchen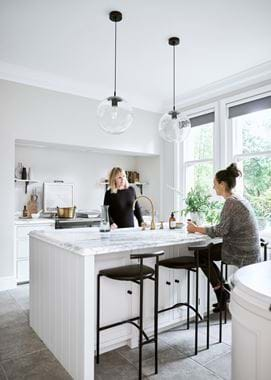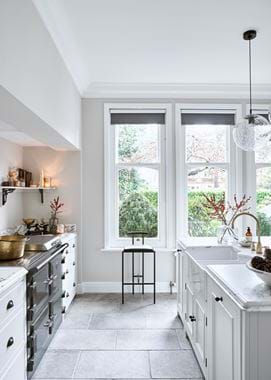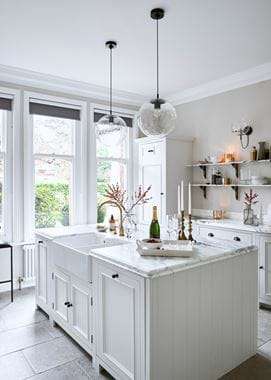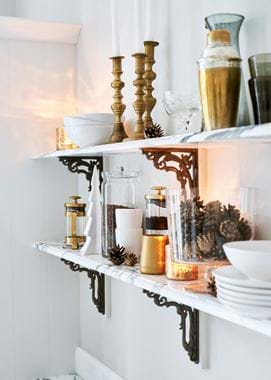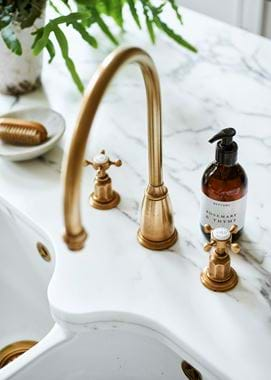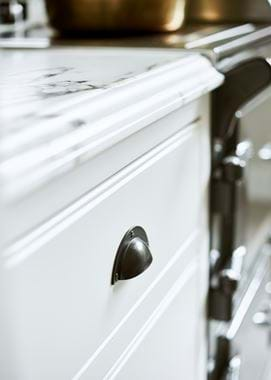 Sharon & her Chichester kitchen
Chichester might be a kitchen loved for its traditional details and its subtle country character, but it's just as at home in a modern city apartment or in a clean-lined and contemporary home. It's something that Sharon's Edwardian home proves entirely – the ultimate balance between details inspired by the past and an of-the-now vision.  
Home profile
This Chichester kitchen is home to Sharon and her husband Grahame, retired property developers from Dorset. They moved to the area in 1978 and, over the years, have lived in five other houses raising their family (the couple have two children who flew the nest ten years ago). Settling in their Edwardian forever-home was an easy decision. Sharon knew from the moment she walked through the front door that this would be the one that they'd never want to move from. It's perched on a high ridge, looking down onto the Luscombe Valley to the sea, Studland and Brownsea Island below.
The project
The neighbouring houses along the ridge had mainly been converted into luxury apartments, but Sharon and Grahame were lucky to find theirs hadn't been snapped up yet and still had many of the original period features perfectly intact. "It was our dream," Sharon explained. "The previous owner had moved there in 1956 when she married, and much of the house was in its original state. We've renovated many old houses over the years, but this one was to be our last one. We wanted to stay true to the layout and architectural features. But we did need to bring the house into the present day."
Redesigning the kitchen was high on their list of must-dos. The couple wanted to update it, while respecting the heritage of their new home. "I knew that I wanted the kitchen to retain its original shape with the large sash windows in clear view, and to safeguard what would've been the maid's door to the butler's pantry, which then leads through to the dining room. I wanted to keep the separate entrance from the hall into the kitchen too. The original house would've had a kitchen range and a large central wooden table – things that I was keen to mimic in our new kitchen." This clear steer from the past helped to shape what style of kitchen Sharon had in mind as well as the layout. "The Neptune Chichester collection ticked the box for traditional cabinetry, but I could see it had the potential for a modern twist too."
Sharon had known about Neptune for some time, having seen our designs in John Lewis a few years ago and in our Neptune By or partner stores. "I'm a big reader of interiors magazines too, so I'd see Neptune all the time in House and Garden, Homes and Gardens and various other titles. So, when you opened Neptune Bournemouth, I took my husband in and we were both very impressed. He felt the quality and the price was very competitive and I loved the detailing and consideration in the designs. It was exactly what we both wanted."
With their kitchen collection chosen, they began designing their dream kitchen with their kitchen designer, Ami from Neptune Bournemouth, bringing their ideas to life. "The design process was very smooth," Sharon continued. "It was lovely to plan alongside a young, enthusiastic and highly creative person, and with her advice, we worked through every minutiae of design, such as aspects of light and space in the kitchen." Sharon told us how she knew the most challenging part of the design would be fitting in all their appliances while still making sure there was plenty of storage space, work surface space and room to move. "Our kitchen wasn't fully ready when we began designing, but Ami was very amenable, making changes prior to the installation and helping us to overcome problems that we ran into when my husband and I were preparing the space. She made it all very easy and went above and beyond her call of duty. All of her design ideas really evolved our project and her visuals helped me enormously to visualise how our kitchen would look."
Like with any kitchen design, Sharon had a few things on her wish list. She wanted a kitchen island instead of the central dining table that would've been there before, and an Everhot range to replace the well-worn Aga. She also longed for a big butler's sink as a nod to the Edwardian heritage. "I've also always wanted a real Arabescato marble worktop, even though everybody warns against marble unless you're ready to embrace the fact that it'll mark over the years. I thought that, as it's our last project, I should be allowed to have it, so I did! I also sourced some old stone flagstones and aged brass taps because I thought, together, they'd bring an older quality to the kitchen and reflect the door plates and window latches. I then chose mid-century globe pendant lights and bar stools to be sure we had a nice mix of Edwardian and modern eras." Sharon's unusual choice of worktop edge – a blend of two types of edge called Dupont and Medium Cove – is another small detail that adds traditional curved character to the smoothness of pared-back marble.
"Chichester, for us, was everything that our home needs. For every oldy-worldy touch, there was a hint of modern-day design too. Legs instead of plinths, just the right amount of beading on the drawers, and a choice of colours that were all so timeless and understated. We chose two soft neutrals – Shell and Silver Birch – to complement the natural materials in our kitchen. They also offset our charcoal-coloured Everhot, and together they make the whole room feel calm and crisp, but also bathed in warmth – helped along by the morning sun and the constant background heat of the Everhot."
Life in her new kitchen
What's your favourite thing to do in your new kitchen?
"Having freshly-brewed coffee at our kitchen island, first thing in the morning and after supper parties. We love the light and ambiance, and the island really makes the most of it as a casual entertaining space."
What's your favourite part?
"It's the nostalgic feeling that we've been able to achieve. From the first time I walked in when it was all installed, it felt like us all over. It makes our home a feel-good home."
What could you now not live without?
"Having so many drawers instead of just cupboards. They're a real must for easy access. But we're also so pleased with our double butler's sink."
What's next? 
"The whole house needs renovating. We're currently laying a new floor in the dining room and converting another room into a bathroom to create a master suite of rooms on the first floor. We're also steadily using all Neptune paint colours throughout the house!"