Ready for hosting – creating prep space in your kitchen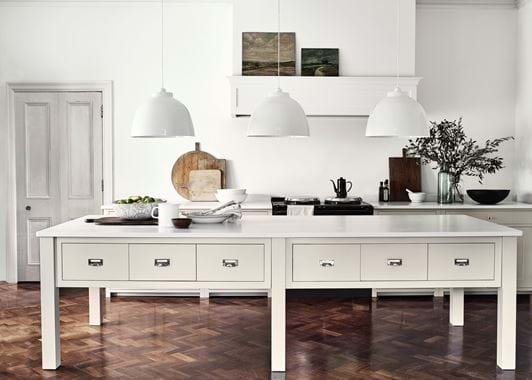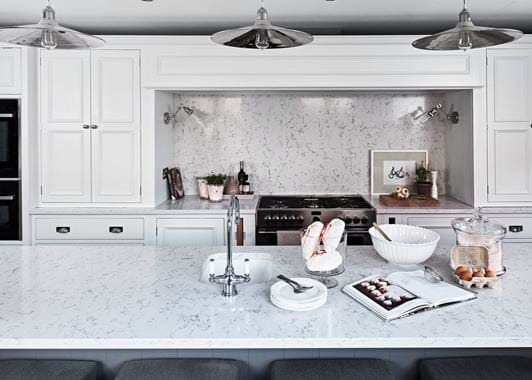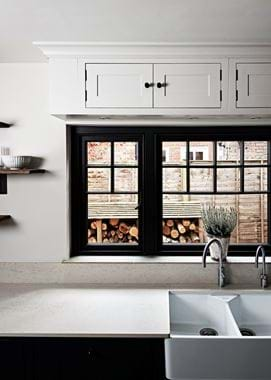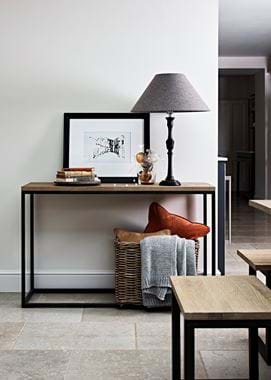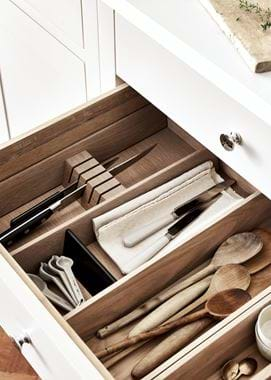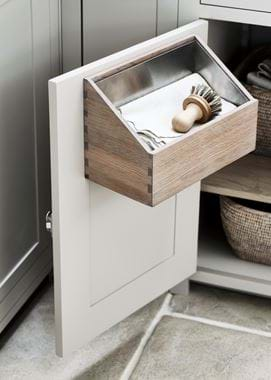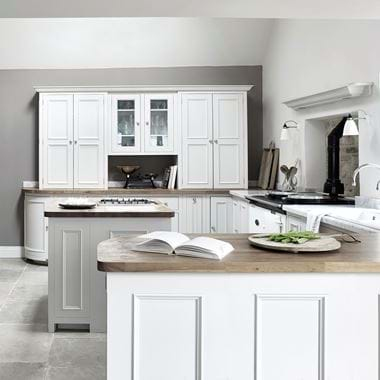 Ready for hosting – creating prep space in your kitchen
Whether you're about to start on a new kitchen design for your home or are thinking of ways to rejig your existing one, thinking about giving yourself plenty of areas for food preparation is not to be underestimated. Christmas is the time when, if you're somebody who's hosting friends and family, you realise just how helpful it is to have a well-thought out space, considered zones and a natural, efficient way of moving around your kitchen. Here, three of the kitchen designers from three of our stores share their perspective on why designing prep space into your kitchen is high on the importance list, and the different ways you can think about achieving it.   
Lily from Neptune Canterbury
"It really is so difficult to rank features of your kitchen in order of priority. You're investing so much time, love, energy and money into doing it, that you want to have it all, from the larder cabinet you've set your heart on to all of the jazzy appliances that'll make everyday tasks more enjoyable. As a kitchen designer though, our task is to do everything we can to tick as much as possible on your wishlist, as well as providing you with things that you perhaps didn't realise just how much you needed. It's about putting yourself into the customers' shoes to imagine their day to day lifestyle and how their kitchen can support them, and thinking ahead to occasions where you need your kitchen to go the extra mile.
"That's where prep space comes in. It's rare that I'll design a kitchen where somebody brings this up, but as a designer, I know I need to be thinking about this – not just ways to provide it, but establishing a natural path around your kitchen that makes prep work more seamless. For example, if there isn't room for an island, I might do a side return that creates a tucked-in zone where you can have plenty of chopping space to the one side with sockets for appliances like food processors, an integrated bin cabinet underneath and a storage cabinet where you can put your processor away once you're done blitzing. Then a simple 90-degree turn brings you to your sink with a food waste disposal for anything that you don't put into the bin and then the dishwasher below that to tidy it all away so your work surface stays clear and calm.
"Design considerations like that create a sense of flow and ease in how you move around your kitchen and makes prepping meals easier, smoother and much less frustrating – exactly what you need when you're hosting a big family like mine!"
Chris from Neptune Colchester
"One of my favourite ways to create quite a decadent amount of food prep space is to make the most of any awkward nibs in the walls – like so many homes have.
"I'll often have a kitchen that's got a section of the wall coming forward (it might be boxing in a huge chimney breast). You have a few options here. Either you enlist a builder to put a false wall in to make sure the nib is hidden and the wall is one smooth, straight line. Or, you knock through to take the other wall back (if that's structurally possible) to achieve the same effect. But building work isn't the only route you need to take. I could design a run of cabinetry that isn't flush (as in, you follow the nib and create a step in the run), but for me, that creates an awkward line. What I'd always do is to leave the wall as it is, to make the cabinetry run straight, and to give that nib section a deeper amount of work surface space. Even if the nib is quite small, the increase in depth will make that work surface area feel enormous.
"If you have an island, this just gives you another vast prep area or the option to use your island's surface purely for entertaining. And if you don't have an island, it's a clever way to make sure you don't feel short-changed on the amount of worktop space you have."
Ami from Neptune Bournemouth and Neptune Winchester
"The beauty of having ample prep space is that you reduce the chance of saying 'I've nowhere to put that!' when it comes out of the oven. It's important as a designer to think about hosting occasions of six, eight, ten or even more people – like many people will at Christmastime – and what that might look like in terms of volume of food and drink. Where will they be able to chop and rest multiple dishes, roll out pastry or start preparing festive cocktails while there's a kitchen mixer stirring away next to you and umpteen glasses ready to be filled?
"There are two things that I'll always consider when designing to answer that potential dilemma. The first is about how to keep your work surface as clear as possible. The less there is occupying your work surface, the calmer your kitchen will feel – every day – and the calmer you'll feel about start to prepare a huge lunch or supper. Nothing will be getting in the way and bothering you, or you won't need to move various items somewhere else in your home just so that you feel you have enough room.
"Easier said than done though. So, I'll ask people whether they're happy to forgo a kettle for a hot water tap so there's one less appliance, and I'll use shelving in my designs for cook books, ornaments and other paraphernalia to sit on those instead of on the worktop. I might include some of our Orford drawer accessories, like the wet store so there's no sponge and washing up liquid out and the knife divider so you don't need a knife block on display. And if possible, we can use a bi-fold countertop cabinet that hides appliances behind its doors rather than having them out and in the way.
"These are all things that can be done retrospectively to kitchens too, making them helpful considerations if you aren't thinking of having a new kitchen. As is the idea of bringing in some freestanding furniture (if you have room) to bring in more surface space. This breaks up the look of having purely fitted cabinets and means some items that you feel you can't lose from your worktop can sit here instead. Sideboards, console tables and potboards are perfect, and they too can be added to an existing kitchen to make your prep space bigger and better than before.