Trudi Sinclair & her Limehouse kitchen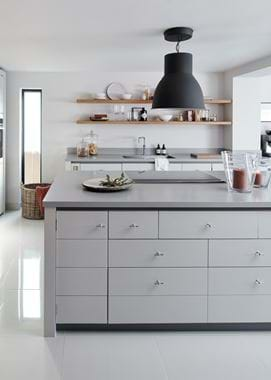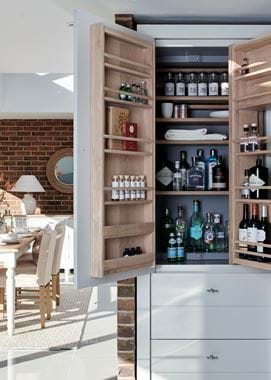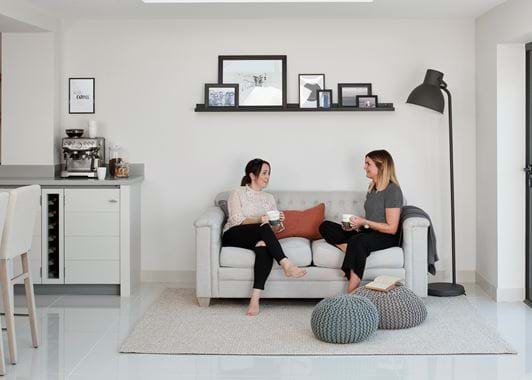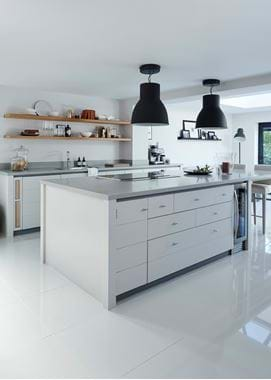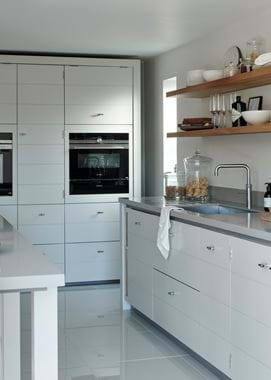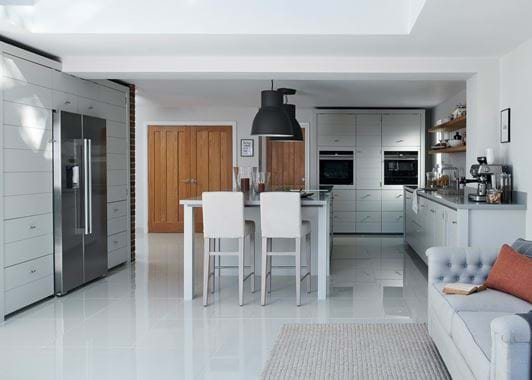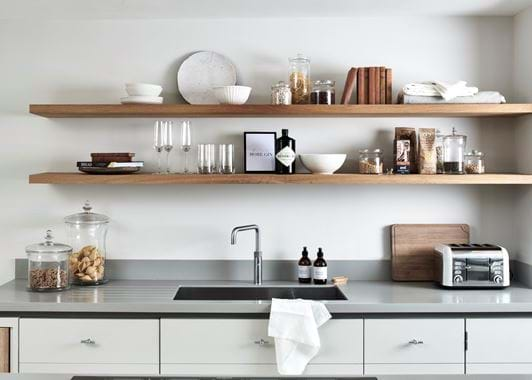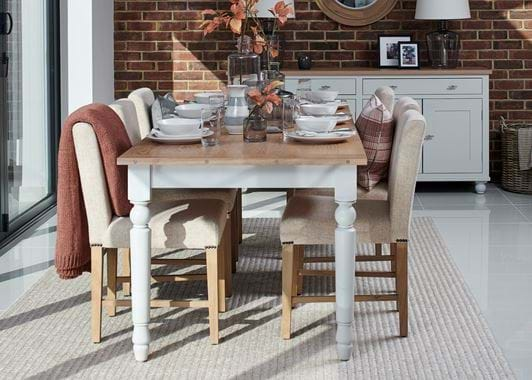 Trudi Sinclair & her Limehouse kitchen
A glossy, glamorous, bright, white space is what Trudi and her family wanted from their new kitchen. "But it had to feel different to what everyone else has and to be incredible quality," she told us. She invited us into her Bungalow renovation to see just what she ended up choosing…
Home profile
On the edge of Basingstoke, down a lane where no two houses are the same, is where you'll find our next Neptune home. It was once a bungalow that the previous owners extended and built up. Four years ago to this day, Trudi, her husband Darren and their two children, Evie and Freddy, moved in, ready to make it their own.
The project
"We'd never actually heard of Neptune before. It was a new discovery, but now I'm a borderline addict. We just happened to be going past Neptune Winchester one day and went in. I saw the Limehouse kitchen and grabbed Darren's arm and said, actually shouted is probably more accurate – oh my god, that's it!", Trudi told us when we asked how she came across Neptune. "The quality just blew us away. I was opening every drawer and running my hand over everything I saw. I remember opening up the larder and shouting again – I need this in my life!"
Trudi had always preferred more contemporary kitchen designs, having had them in her last three properties. She likes the sleekness of them and the sophistication. "The Limehouse was just a no-brainer. I loved everything about it, especially that it was solid wood with proper joinery. None of my other contemporary kitchens were done like that," she continued.
Working with their kitchen designer at Neptune Winchester, Trudi and Darren reeled off all the things that wanted to include in their new kitchen. "We definitely wanted an island. Darren loves his coffee and wanted a proper barista-style one, so we needed room for that. And we loved the disappearing extractor fan that they had in Winchester – we'd never seen anything like it. Quartz worktops were on our wishlist too and lots of drawers over cupboards. And a hot water tap. You know, just one or two things," she joked. "Every feature that we saw and loved, they've worked into our design. We literally walked around the store and said, could we have that? And that? The chopping block and tray cabinet, the wine rack and cooler, two big larders and one skinny one – never in my wildest dreams did I think I'd be able to say I have three larders. We have everything!" Trudi uses one of her larders as a breakfast pantry with the coffee machine and all her other bits and pieces set up inside and a section for the children. Her second is full of spares of things, like tins of chopped tomatoes and packets of grains and pulses. Her third is her favourite of all. "That's my Christmas larder. I use it as a drinks cabinet all year, but I stash away any Christmassy food in there too like pickles and Christmas puddings. Whenever people come around I shamelessly show off our larders and they ooh and ahh – I love it. I also love watching them snoop and when they get to the sink cabinet, I say, just tip it open darling." The Limehouse sink cabinet opens differently to any other in our collection and tips forward rather than opens out and has a wet store inside for cloths and sponges.
"I have to say, the entire process was a doddle. There was barely any back and forth. I loved the addition of open shelves which Neptune Winchester suggested instead of lots of wall cabinets. I have so much storage everywhere else that they give me somewhere to display stuff. And the installation was amazing too. We used a Neptune fitter and got our lifetime guarantee. The attention to detail blew us away and I couldn't fault a thing. Four years on and our Limehouse looks as good as the day it came home to me and I'm still head over heels."
Life in her new kitchen
What's your favourite thing to do in your new kitchen?
"We're social butterflies anyway, but now even more so. Friends, family – everyone's always here and we're always in the kitchen. We'll have some people perched at the end of the island and some on the sofa. It's such an easy space to bring everyone together. The wine cooler and gin cupboard have their part to play too of course."
What's your favourite part?
"Our larders. I love that I can say that as a plural. They store my life and are totally amazing."
What could you now not live without?
"Our Quooker hot water tap. Everyone says, ooh you made that tea quickly. It's like my party trick. It's good for cooking too and saves us so much time."
What's next? 
"We did the whole of the downstairs in one go, so now I'm building up furniture rather than doing one big project. I'm turning into a bit of a Neptune showroom I have to admit. The Chichester console table and Suffolk sideboard are my newest additions. And I was desperate to have a Neptune sink in our bathroom so we picked one of the Chichester cabinets with the sink bowl on top. I was the first person to buy Christmas decorations at Neptune Winchester this year too. I basically want to live in a Neptune house. That's the plan!"