Danni Collyer & her Chichester kitchen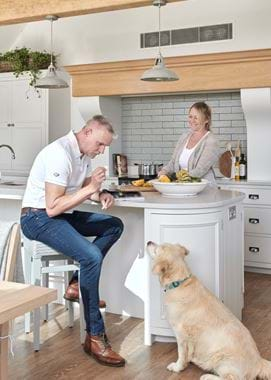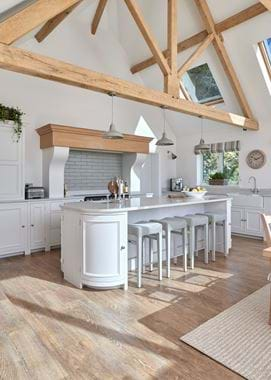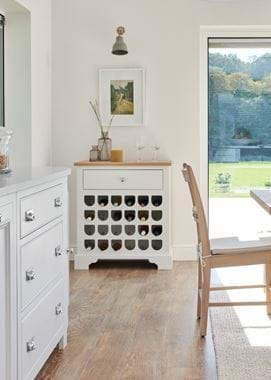 Danni Collyer & her Chichester kitchen
Managing a property conversion, running their own business and bringing up a family. Let's just say the Collyers – owners of the Chichester kitchen in our latest home profile – like to keep busy…
Home profile
A former equestrian property where jousting took place in the courtyard and a business was run out of the main building, Danni Collyer's East Sussex home was rundown and in need of a complete overhaul to turn it into the family home that it is today. She and her husband, Peter, bought it five and a half years ago and began work almost straight away with their extension and remodelling of the entire property alongside running their own business. They live there with their two children (Brooke, who's 17, and Brody, 15), Garfield the cat and Holly the dog.
The project
Once upon a time, Danni and Peter's kitchen was a garage. But their plans for redesigning the property included not just extending, but rethinking the entire layout – moving rooms, knocking through walls, and almost starting afresh. "We were doing the whole house in one swoop," Danni explained. "A kitchen renovation is consuming enough, but when you're having to concentrate on every room all at once, it's quite stressful. When it came to the kitchen, my husband said to just do what I want, which was music to my ears that he didn't want much involvement!"
Danni had lots of different designs drawn up from lots of different companies. "None were quite right though. I knew what I wanted in my head, but nobody seemed to be able to translate that, which started to get frustrating as time went on. Then one day, I wandered past Neptune Hailsham and grabbed Peter's arm and said 'oh my goodness, that's my kitchen in the window!' I walked straight in and said that I wanted it just like that," she continued, snapping her fingers.
Being new to Neptune, Danni hadn't seen any of the kitchen collections before, but only had eyes for Chichester. She liked the character of its beading and wanted something that was subtly country. "Our new kitchen space was so large and tall. The ceiling's vaulted and I felt that we needed more detail on the cabinetry to fill the space," said Danni. Choosing the standard Chichester cabinetry colour, Shell, with chrome hardware and a quartz worktop because of its low maintenance nature, the entire design is clean, bright and bounces all the natural light that floods into the Collyer's kitchen. "Daniella was our fantastic kitchen designer and she just got it in a way that nobody else had been able to. It was like she was inside my head! She understood what our room needed to make it look good, but also what we needed to make it the usable space that it is. I had my wish list at the ready – I wanted an island and a cooker mantel and hood like the one in the Hailsham store – but didn't really need to say anything at all – she just knew. And at that point, I can't tell you what a weight it lifted from me. I was tired of renovating. I'd had enough at this point. I was able to just leave it to Daniella and relax a bit."
Daniella worked on Danni's wish list, designed a walk-in pantry, included a wine cabinet, lots of pan drawers ("I'm such a convert for keeping pots and pans in drawers now!" added Danni) and suggested an Arundel family table and bench to bring the whole look together and include even more space for people to gather. There's also the occasional piece of curved cabinetry to soften the bold lines of the beams.
We ended by asking Danni if this is her forever home now it's almost entirely finished. "Who knows. We did this with our last house. Gutted it, redesigned it, and then we got bored and were ready for the next challenge. Watch this space, but for now, I'm head over heels and if we do ever move on, I'm taking Neptune with us!"
Life in her new kitchen
What's your favourite thing to do in your new kitchen?
"We spend our whole time here so it's impossible to narrow it down to one thing. I love that this is what our kitchen has become. Everything hubs around the kitchen. We don't really use the rest of the downstairs – we literally live in the kitchen."
What's your favourite part?
"The island. I've never had one before so it's just fantastic. It's so nice that I can stand there, doing my bits, baking, cooking, and still be a part of everything. It's designed and positioned in a way that I can see everywhere." 
What could you now not live without?
"This might seem like a small detail, but the hand-rinse feature that Daniella included by our sink. I've never had one of those before either. I would always have one now. And if I'm allowed to pick just one more, my cutlery drawer because it's so easy to keep tidy. That's the bottom line with our whole design really – everything is easy."
What's next? 
"We're not quite finished. Next is the outside. We have six acres of land to do something with. It's all stripped back to nothing, so we have a blank canvas now and the plan is to build it up so it feels like a garden rather than fields and paddocks. That's the plan for spring and summer."