Should my dining room furniture match my table?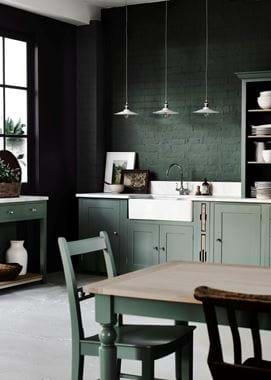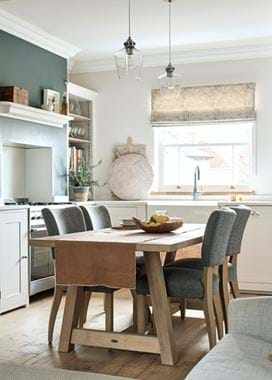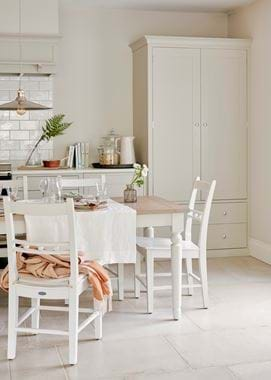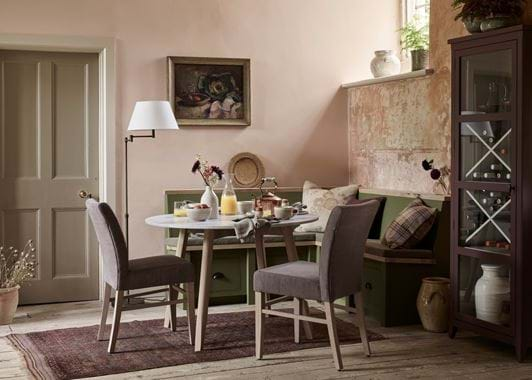 Should my dining room furniture match my table?
Is your dining room a separate space downstairs or is it part of your kitchen? Or do you have both? Either way, one of the questions we get asked a lot, is whether all of your dining room furniture should match? Is it best that dresser, sideboard, table and chairs all come from the same collection? Or should one or two of them be different? Questions, questions. Here's what our team of interior designers and stylists recommend.
Anything goes
This is one area of interior design where you can almost get away with anything. Mix everything up and you'll have an eclectic feel to your dining room. Keep everything from the same range and it'll undoubtedly go together – yes it'll look quite staged and safe, but there's absolutely nothing wrong with that. Somewhere in the middle is a good place to be though if you want a bit of difference but with a clear common thread running through your room.
Find some commonality
If you decide to not get everything from the same collection, try to choose pieces that have something in common to tie them together. It could be that they're all the same material, or your table might have turned legs so look for chairs that have an element that's turned too, like the legs or a spindle back.
But equally, look for contrast
Balance is at the heart of so many things, and here, you want to make sure you have common ground between your dining room furniture, but also some difference to give your room texture. For example, if you have a solid wood table that's quite strong in shape like Arundel, and other furniture like our Carter bookcases in your dining room, think about choosing some upholstered dining chairs to soften the look. The same applies the other way around – a painted dining table that's more delicate like Suffolk with a Suffolk dresser close by, will benefit from having one or two sturdier chairs to bring strength to the room, like the Wardley in oak.
Remember, all matching can be quite bold
Choosing dining room furniture that all matches perfectly can look very tailored and coordinated, but it can also go the other way and look dramatic. In the green kitchen scene, our Suffolk kitchen collection has the matching Suffolk potboard, Suffolk dining table and Suffolk dining chairs to create a kitchen-dining room setup. They're all painted in exactly the same shade of Cactus green, which we've carried onto the brick walls too. Committing to a colour and a collection in a big way has the potential to look daring rather than safe.
Use colour as an anchor
If you're blending designs from different collections but are concerned about it looking too disjointed, colour will help you to bring it all together. If you have a painted country dresser on one wall and a different style of oak dining table in another part of your room surrounded by another style of dining chair, try painting the dining chairs in the same colour as the dresser. And if you still feel like it's not united enough, pop one of the dining chairs next to the dresser to emphasise their similarity. The effect will then carry through as you look over to your dining area.
Celebrate differences
Difference is interesting and needn't be radical in any way. Providing you choose furniture that's classic and well-designed, it's surprisingly easy to mix and match different styles without it looking confused. In that final image, you've got our Buckland bench seating (see our kitchen brochure for more details on Buckland) painted in Lily, mixed with our Harrogate dining chairs painted in Fog. Two different styles of furniture in two different colours too. Plus, they're being used within a very contemporary setting – another point of difference – and yet it all works.
Don't forget, you can bring in matching elements through accessories so you have some parts of your dining room that match quite clearly. Just like how we've used symmetrical vases on the dining table and a series of prints from the same collection and in matching frames on the wall behind.