Pip McCormac & his Suffolk kitchen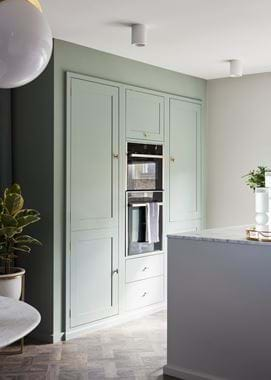 Pip McCormac & his Suffolk kitchen
You may well have seen this kitchen before. Whether it's on somebody's Instagram or in the press, it's gone down pretty well, not least with the man who lives in its company day-in day-out. You may well have heard of him too. Pip McCormac is a columnist and editor for a number of leading lifestyle magazines, including Red, as well as being content director of interiors magazine, Elle Decoration UK, and author of The Herb & Flower Cookbook. When we first saw the images of his Neptune Suffolk kitchen, we couldn't wait to get down to his central London apartment to see it for ourselves…
Home profile
Pip calls home a sixties apartment building just south of the river in central London. It's a spacious one-bed property in a prime location where he can walk to work and most of his favourite spots. He lives there with his very beautiful cat, Jennifer, who he refers to as a "real diva" and having never done a day's work in her life. They split their time between Pip's home and his boyfriend's.
The project
Pip's project went much further than his kitchen renovation. Having bought the flat in 2005, he lived there throughout his twenties but later moved and chose to rent it out. Pip told us: "I moved in with my boyfriend of the time but wanted to keep the flat as an investment for the future. When we split up, I just didn't want to move back there though. I suppose it became a place with negative connotations for me. I ended up renting elsewhere. Last year, I decided to renovate it entirely. To completely reconfigure it so that it became something new – almost a different flat – so that I could stop throwing rent money away and move back in to what was once a home for me."
Enlisting the help of Jordon Cluroe and Russell Whitehead who run 2LG – a leading London interior design studio – walls came down, the bedroom was downsized and moved to a different part of the property, the bathroom shifted position, and the kitchen became the focal point of a much larger living space. The only aspect of the apartment that didn't move was the front door.
"Ever since I discovered Neptune, I wanted a Neptune kitchen. They're just perfectly my vibe – all four collections really – but the Suffolk's simplicity was the one that got my pulse racing. Those cabinet fronts are just perfect," said Pip. His brief was that he wanted "an Instagrammable kitchen". Pip also put together a mood board that was a bit sixties (to suit the age and character of the building) and a bit rustic Victorian kitchen. Gold and brass were a big theme, as were mid-century shapes. "It was a bit of an unusual brief and I had no idea how it was going to be achievable, but it's exactly what I wanted. Like, exactly," Pip continued, grinning.
Using two complementary green tones – Sage and Moss – the Suffolk cabinetry is instantly calming. "I love green. I think it's a really grown-up shade and a touch more interesting than grey. It's a great backdrop for other colours too. The two colours mean that I can shoot it from both sides and show different angles – ideal for my Instagram goals!" The same greens continue into the open-plan living room so the whole space is connected.
Pip very much wanted a butler's sink, an island and marble to be a part of his new kitchen. "I'm so happy I've got all of my wants and more. I knew if I wanted polished marble work surfaces I'd have to embrace its natural tendencies to stain easily, which I have, but I love it so much that the moment I see a mark I'm on it with a cloth. Marble does that to you. But was I expecting a larder as well? Absolutely not! I didn't know it was coming. We went through the design and they go 'and the larder will go here' and I put my hand over my mouth and was like 'oh my god, what?'
"My kitchen is amazing. I'm head over heels with it. The quality is to die for, the cabinets are so much more than cabinets, and the styling is dreamy (sometimes I just stare at my Lee Broom lights and candlesticks). It's a proper place to cook. I have an island! It looks good. It feels good. I have a dining table too. A dining table AND an island, in my one-bed London flat. And I have all my cookbooks in one place. That's no easy feat in a small space, and yet it doesn't feel small somehow. It's so light and spacious. My Neptune kitchen has done the unthinkable."
Life in his new kitchen
What's your favourite thing to do in your new kitchen?
To cook and have people over. I just stand at my island and try to look nonchalant while I show off all of the integrated bits – like my hob that basically melds into the work surface. Sometimes people suggest using the breadboard or tray that fit into my breadboard and tray slot and I glare at them. They're too nice to be used. I love them too much. I've even bought nicer tea towels for my tea towel slot, but they're just for show too. I keep my everyday tea towels in a drawer instead. I feel like the beauty of my Neptune kitchen makes my life seem somehow better.
What's your favourite part?
The larder. It's just so grown-up and not at all what you expect to get in a London kitchen. Nobody would believe that I have all of this in my flat. I barely can. I feel very lucky.
What could you now not live without?
All of it. I can't choose. It's too hard. Aside from what we've already talked about, maybe the cooking stuff. Like my hobs. They get hot so fast and then they're cold almost immediately. I had no idea how much of a difference that would make to my life. I also love to open my Neff oven (also a Neptune recommendation) and use the sliding trays so that I can pretend I'm on the Great British Bake Off.
What's next?
Nothing. I don't need anything else. I didn't think I'd ever hear myself say that but I don't. It's quite lovely actually.