Nicola Ashley & her Chichester kitchen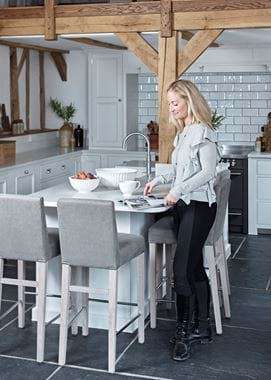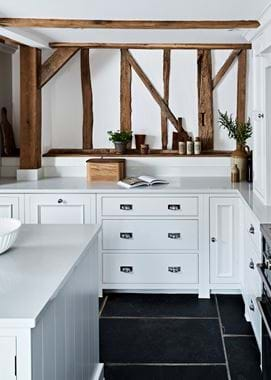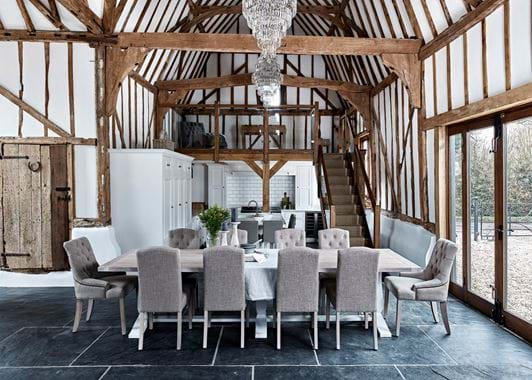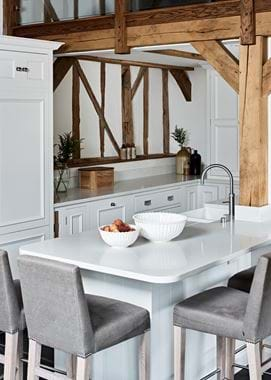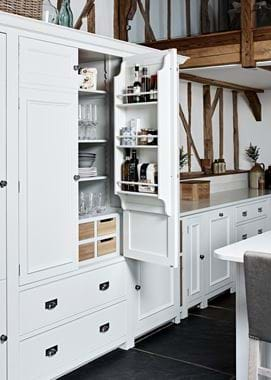 Nicola Ashley & her Chichester kitchen
When we met Nicola, we were trying to figure out her accent. Born in Epping, Essex, she and her husband relocated to Bermuda, spending 12 years there and starting their family. Before moving back to the UK this summer, they managed to find a property and renovate it entirely, all from their home in the Sargasso Sea. That included choosing, designing and having their dream kitchen installed – our classic English Chichester collection.
Home profile
Nicola's home is a busy one. Inside you'll find her husband, Wayne, their young children Ethan and Scarlett, two cats who go by the names Rosie and Oscar, and last but not least Abbie the Great Dane. Together, they live in a listed, 16th-century barn conversion whose outbuildings they've connected to the main home through contemporary glass walkways.
The project
Finding a new home when you live on the other side of the world is far from easy. Add to that completely renovating a listed building, and it sounds like a recipe for disaster. But not for the Ashley family, who managed the whole process with relative ease. 'Once we found our new home, we quickly booked our builders, who came highly recommended. Olde English specialise in listed properties and so we knew we'd be in safe hands,' said Nicola.
The renovation work began with reconfiguring the downstairs layout, moving the kitchen into the main part of the barn where there's an original vaulted ceiling. 'Before, the kitchen was tiny, with just one small window looking onto the bin store. It certainly wasn't a place you'd want to sit and share food. I felt shut away behind a closed door when I was cooking – it was so old-fashioned. We moved it into the heart of the home. A clichéd phrase, but so true. That's where we wanted it physically, but it also represents what we wanted our kitchen to stand for – togetherness. Now we use the former kitchen as a boot room.'
On one trip to the UK to sort paperwork for their new home, Nicola and her family met Ben from Olde English, but otherwise, everything was dealt with via Skype from Bermuda. Further into their project, the Ashleys came to the UK to look into schools for the children and used that time to look into kitchen companies too. 'We had to cram as much as we could into that visit, because 90% of our project would be done remotely. Olde English recommended Neptune to us, so we ordered the kitchen brochure and then went to the Colchester store after the taster day at the school. We spent hours in there – literally. We ended up getting almost everything for our home that day, from bathroom vanity cabinets to our bedroom furniture. It was a very successful trip indeed, fuelled by lots of coffee!' Nicola continued.
At first, they were torn between Limehouse and Chichester – two kitchen collections that are quite different in their design. 'We loved the sleekness of Limehouse, but knew that it was probably too contemporary for the rest of the house. Chichester ticked all of our boxes though. It's such a classic way of doing English countryside, without being twee – something that we really wanted to come back home to and remind us of how much we'd missed Britain. As soon as we touched and opened the cabinets, we could feel the incredible quality. Even the way everything moved felt impressive and dependable.'
With their kitchen decided, and the elements for many of their other rooms, the Ashleys returned to Bermuda while work on their new home continued. 'Olde English and Neptune Colchester just got on with it. Lewis, our kitchen designer at Neptune Colchester, drew a few options for us with great visuals using our room's exact dimensions so we could really understand what he was suggesting. We did it all over email and the phone. When we were happy, he worked with Olde English on timescales and the whole thing ran so smoothly. Our only complication – if you can call it that – was us struggling to decide whether to get a single fridge-freezer or an American-style one. That was it! We were blessed to work with such a brilliant team, and had no choice but to make quick decisions (except for the fridge!) and to trust our team. We needed our home to be ready for our return and so the deadline was non-negotiable. They made it work, hiccup-free.'
When Nicola and her family moved back in July 2017, their whole home was fully completed. 'We couldn't quite believe we'd pulled it off – logistically and aesthetically. It all feels like a bit of a dream, even now. Ours might not be the biggest kitchen in the world but it feels so airy with the colour scheme and the incredible height that we have. I feel like I've created my own version of a Neptune store, cooking in our Chichester kitchen, eating from our 12-seater Harrogate dining table, relaxing on our Eva sofas and falling asleep in our Larsson beds. When we'd settled in, Lewis from Neptune Colchester came to see us to hand-deliver our lifetime guarantee certificate and a little moving-in gift. It was such a lovely touch. We toasted to the project as he laughed at what a true Neptune home this was.'
Life in her new kitchen
What's your favourite thing to do in your new kitchen?
'Without a doubt, sitting around the island with family and friends with drinks and nibbles while the kids play in the living room. We have four of the Shoreditch stools and plenty of standing space where we all gather, as well as a small breakfast bar area that seats two looking onto our pond – it's where the kids have breakfast.'
What's your favourite part?
'Our double-door larder. It might seem predictable to say so, but it really does make life easier and it looks great too. I love how practical it is; I open it up and there's everything right in front of me, which means no more rooting around. The capacity is enormous, and I find the racks on either side of the door endlessly useful.'
What could you now not live without?
'I'm going to have to say the larder and the island again. They make our kitchen work in every way that we wanted it to, bringing us function and a huge sense of pleasure and pride. I love our breadboard and tray cabinet too though – I'd feel a little lost without that as well.'  
What's next? 
'In spring, I'm planning a full garden landscape project and we're considering an orangery. Internally, we're pretty much there now, so I'll be turning my attention to getting the outside ready for summer – even if it won't be quite the same as the Bermuda ones we're used to!'
Ready to begin dreaming up your own kitchen? Start exploring our collections online here.