Rachel Ayerst & her Suffolk kitchen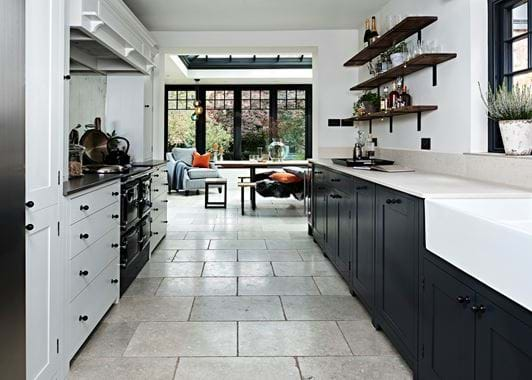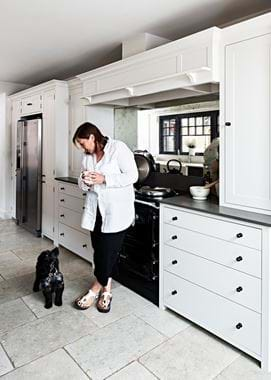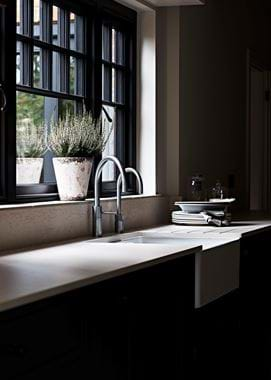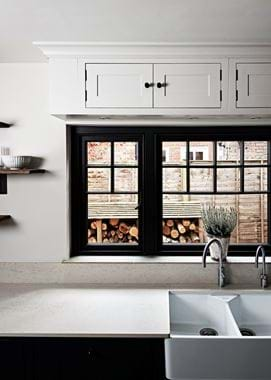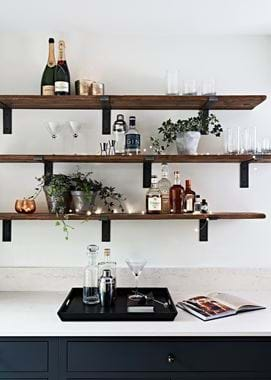 Rachel Ayerst & her Suffolk kitchen
Inside The Old Vicarage, you'll find a rather busy home. There's Rachel – a recruitment consultant who works from home; her husband Nick – the managing director of a restaurant group; their son Alex – who's just started sixth-form; Skye the Working Cocker Spaniel – who Rachel describes as being a "pocket rocket"; and Delilah and Tabitha – the two rescue tabby cats. We went to meet them in their Buckinghamshire home to see how they were getting on with their new Neptune kitchen – our Suffolk collection in a galley layout that opens into a spectacular, modern-industrial orangery.
Home profile
The Ayersts moved into the The Old Vicarage in 2012. Built around the turn of the 20th century, it has a fascinating history. Before it became a vicarage (in 1951), it was home to a lady called Katie Sichel. She helped to run the neighbouring property – Coniston House – which was a place of respite for women and a key property in the suffrage movement. The two buildings are even listed as points of historic importance on Britain's suffragist walking trails.
While the previous owners of The Old Vicarage had updated it significantly, the interior needed a lot of love, and over the last five years, Rachel has been steadily updating and renovating every room. She left the biggest project of them all until last – the kitchen and adjoining orangery.
The project
The kitchen layout was a galley. At first, the Ayersts looked at whether they could reconfigure the room to make it much wider, but in the end, decided to keep their galley and create a sense of space in another way – by redesigning the existing UPVC conservatory and making that a part of the kitchen. "We used Westbury Garden Rooms to construct our timber-framed orangery, and our absolutely fantastic building team [LDF Construction, a local business in Aylesbury]. We put in huge windows to flood it with light and also to bring the garden into the kitchen; a friend said it's as though each window picture-frames a different aspect of the garden. Grant, our kitchen designer from Hawk Interiors [one of Neptune's partners] then worked with us not just to design our kitchen in terms of cabinetry and appliances, but also on how to connect the two spaces together to make them feel like one, flowing room."
Rachel had a very clear vision for her new kitchen. The family all loved the industrial look, and following recent trips to New York and Iceland, she wanted to find a way to bring together an urban feel with a touch of Scandinavian simplicity and enduring English style. "It was always going to be the Suffolk kitchen collection for us. We had one in our previous home. It was a much smaller kitchen, but it worked so brilliantly. It just works – in big spaces and small ones, with any colour, and with all sorts of different style preferences, all underpinned by gorgeous quality and a feeling that it'll never date. You can't say that with many kitchens. It's simple, clean and calm." After some deliberation, Rachel, Nick and Alex decided to go with dark grey paintwork on the window and door frames in the orangery, and continued the same colour through the kitchen, choosing Neptune's water-based Charcoal paint for the cabinetry along with Salt and Snow on the walls. "I picked out the Barlow half-beehive knobs in Antique Bronze to match the hinges used in our orangery too. I loved Neptune's attention to detail that carried through every aspect of its designs," Rachel continued.  
While a sense of space was a huge design consideration for the Ayersts, storage was, like with most kitchens, the next key factor. "I didn't want to be rooting around in cupboards. I wanted as many drawers as possible. Even where we did have cabinets, we were able to use Neptune's bespoke service to have drawers designed inside. Our designer worked in as much storage as he possibly could, from larders to a bespoke pot board with the same quartz worktop as the rest of the kitchen so it all coordinated. I had the idea of a mirrored splashback behind the stove as a way to make the room feel larger. It's one of the most expensive parts of the kitchen but it was worth it. It's antiqued glass so it fits in with the industrial vibe, and when you're sitting down at the table it gives you a viewpoint of another part of the kitchen. It's like a wonderful game of ping pong. Seeing yourself first thing in the morning, before the kettle has boiled, is the only downside."
"Our house can be truly frenetic at times. But our Suffolk kitchen helps us to create order and to find a sense of calm. Even the little things, like the organisational drawer Neptune does for cutlery and utensils, are a godsend. We've gone on to have Suffolk in our boot room and utility too. I have, however, gone a little mad in the downstairs loo with hummingbird wallpaper to counter the calmness! Is my house always tidy? Absolutely not. But Suffolk makes the phrase 'a place for everything and everything in its place' real, and it's so appreciated. It gives our home rigour and real beauty. We feel very lucky indeed."
Life in their new kitchen
What's your favourite thing to do in your new kitchen?
Cooking together. Now we have the room to do it properly and without getting in each other's way. I've also created a small sitting area in one corner of the orangery where I love to sit and look out onto our garden. We have a Neptune Rupert footstool in the beautiful yellow velvet which adds this sunny burst to the room. Above it is a little orb chandelier by Curiousa & Curiousa – they're a bespoke lighting company based in Derbyshire – and we chose the Isla Finch velvet to match it.
What's your favourite part?
The enormous pan drawers. They look fab and they're endlessly useful.  
What could you now not live without?
The larder. Now I see why everybody loves them so much.
What's next?
Enjoyment. It's taken a long time to get our home how we wanted it and now we want to relax and enjoy. Nick used to live in another 'Old Vicarage' as a teenager and has always wanted to come back and live in his own one. Sounds like a bit of a cliché, but we've all got what we wanted.
Something from Stories
This is an article from our Stories for winter. Order your free copy here.