The dining table: find your perfect fit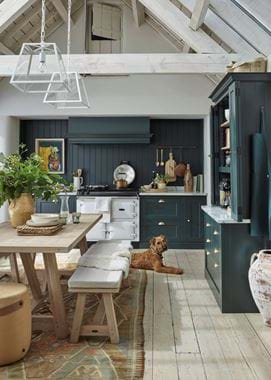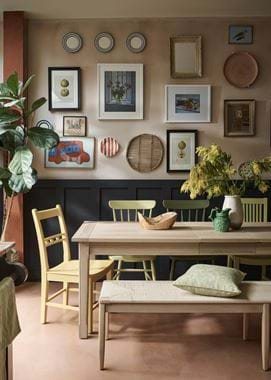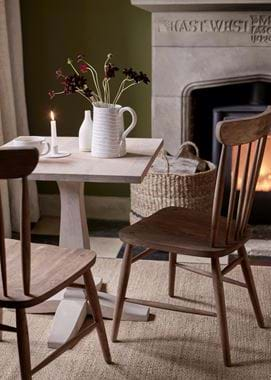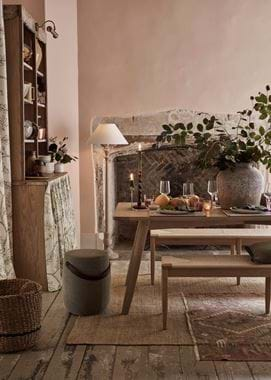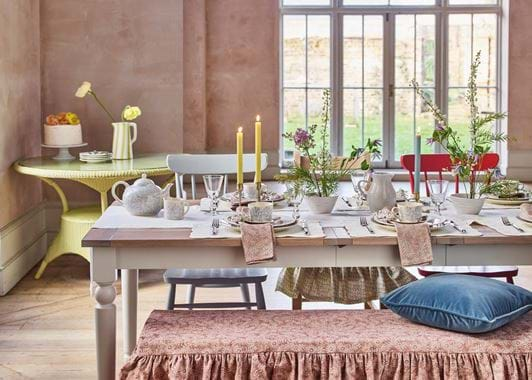 The dining table: find your perfect fit
A dining table is a centerpiece like no other piece of furniture. It's going to see you through years of great memories and good times. Meals you'll share with your family and your best friends. It's where you'll celebrate Christmas dinners, linger over long lunches and chat your way through sociable brunches. So it's worth taking time to make the right choice. Here's a little help in finding a table that's the perfect fit – for your home, your lifestyle and your space.
Size it up
The first consideration is, how much space do you have to play with? If you hanker after a statuesque number like the rectangular Balmoral, you'll need a room with proportions that can accommodate it. If you squeeze a handsome table like this it into a too-small space, it won't have room to shine. Your guests won't be able to move chairs out easily and your room will feel on the cramped side.
That's when a more compact style such as Harrogate – still reassuringly solid, but with scaled down dimensions – comes to the fore. Equally, if you live in a home with lots of space and high ceilings, a slim, petite table with refined legs and fine detailing, such as the Sheldrake, could look too slight.
The newspaper trick
A helpful way to judge if a table is a good fit. Tape together some pages from last Sunday's broadsheets. Measure out the width and length of the table you like, and cut or fold the paper to size. Now you have the exact dimensions of the table to lay out on your floor. You can even arrange a set of chairs around the paper. 
Does it seem too small? Or maybe a bit too long for the space? Remember that your dining chairs will tuck in a little under the table top. However, it's important that each chair has space to be pulled out, so that guests can get in and out easily. Ideally, a person should be able to walk around all the chairs while they're all occupied.
The real thing
Combine this with a visit to your local store. A bit like love at first sight, as soon as you see it, you'll know if it's right. Up close and personal, you can appreciate the true tone of a particular timber. It's when the gently turned base of the Sheldrake can be compared with the curved leg on Henley. You can see the care that goes into the painted finish on designs like the Harrogate.
Take your time, sit, discuss. It's all part of the process.
In the round
There's something very sociable and easygoing about a round table. It can complement certain styles of architecture, subtly echoing the arch of a doorway or window. Or it can simply introduce softer, more natural curves into a scheme. Sheldrake also comes in an extending version, forming an oval. Still curvaceous, yet longer and practical.
Small space to fill?
The petite two-seater Sheldrake is a space-saving design that still feels crafted and solid. Smaller scale doesn't ever have to mean skimping on style.
Another option is to choose a table that you can push back against the wall to act as a console table when you're not using it. You'll need to re-purpose or store away at least some of the chairs if you do this, and it's best for tables that aren't used every day, or that only need to seat a lot of people on special occasions. But, it's a neat solution for dining rooms that also serve as living spaces.
To extend or not to extend?
The advantages of extending tables are clear: one size for everyday family meals and then a super-long version for special occasions. But extending tables also speak of a longevity that we love at Neptune. A piece of furniture is an investment for the long term. So if you move to a larger home in a few years, your table comes with you. And if you downsize, that's fine, too. Your favourite dining table remains in its more compact form to provide a warm welcome in your new home.
Pull up a chair
Extending tables will need an extra set (or two) of chairs waiting in the wings. Opt for an adaptable chair style such as Suffolk, Wardley or Mowbray – those extra chairs can be used in a study while off duty. Mind you, the different finishes and fabric options on our chairs mean all our styles are easy mixers throughout your home.
Set the benchmark
Low-profile benches are an all-round winner in the dining room. They can be tucked away when not in use, or look cosy draped with softest throws, sheepskins, or cushions. To complement a bench, consider the hardworking rusticity of the Arundel table. It has the feel of a country barn classic, with diagonal supports and the deep, rich hue of brushed oak. Like all our dining tables, it's a feast for the eyes.
Discover our dining collection.
Jo Leevers writes for some of the UK's most acclaimed lifestyle magazines and national newspapers, from The Telegraph to Homes & Antiques.