Juliet Batchelder & her Suffolk kitchen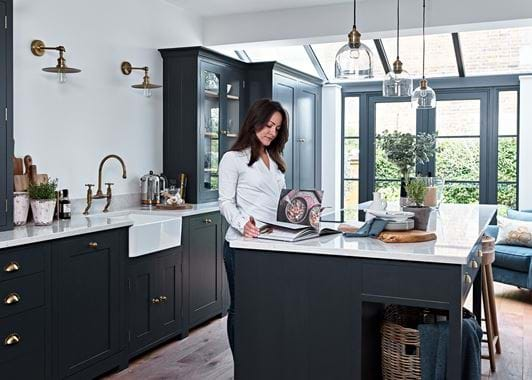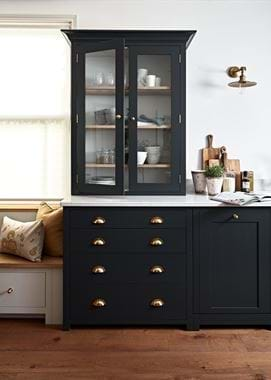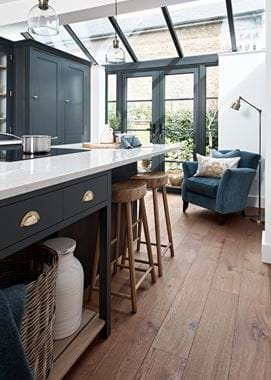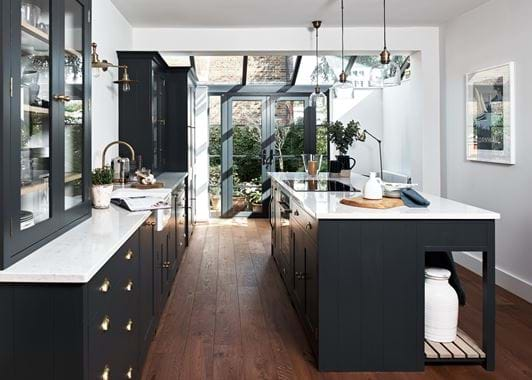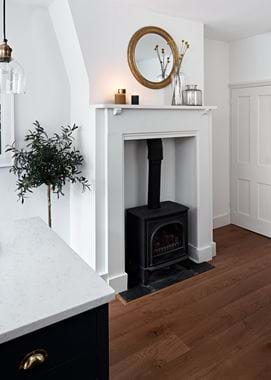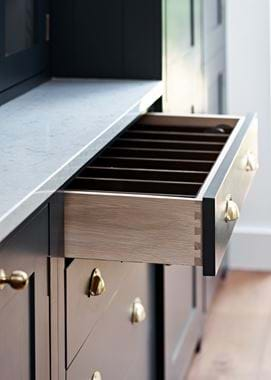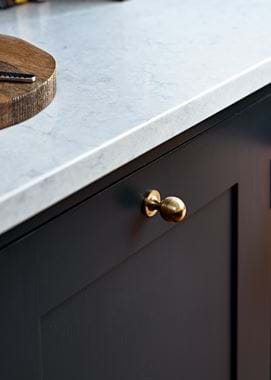 Juliet Batchelder & her Suffolk kitchen
Home profile
Juliet and Andrew have lived in Royal Tonbridge Wells for almost three years. They moved into their end-of-terrace, Victorian townhouse in 2014, which had previously been rented and was in desperate need of updating. Inside, it's a typical Victorian townhouse with a long hallway and kitchen at the rear of the property, which they've extended outwards. Since moving in, they've restored and renovated it with new electrics, flooring and windows, and had the original fireplaces reinstated. Juliet describes the property and the area as being like a 'little London'. 
The project
The building work for the extension where the new kitchen would eventually live began in October 2015. 'Of course, things didn't go to plan with the extension side of things,' said Juliet. 'There were the usual delays. We didn't have a working kitchen for eight months because of it, managing on a microwave and slow cooker...I never want to eat another casserole again. We were so desperate to get started on our new kitchen, but we had to keep delaying our installation date with Neptune. The Tonbridge team couldn't have been more accommodating though. Thankfully, the installation side with Neptune wasn't problematic at all, making it even more of a relief to get to this stage of our project. Ollie [their accredited Neptune fitter] and his team were fantastic.'
When it came to the kitchen design process, Juliet already had a very clear idea of what she wanted. 'I'd always hoped to have a Neptune kitchen. I'm a bit obsessed, and they'd come highly recommended by friends. The whole process was incredibly easy. I knew I wanted the Suffolk kitchen collection as soon as I walked into the store. It's so beautifully pared-back and makes more of an understatement than anything. Zoe was our kitchen designer at Neptune Tonbridge, and she translated my brief perfectly – clean lines, Charcoal paintwork, an island, and a modern feeling that would never date. It's everything I wanted.' Juliet and Zoe amended the design only once towards the end, incorporating the Buckland bench seating at one end so that more people could fit around the kitchen table, as well as adding Pembroke shelving to the living room. 
The key feature in Juliet and Andrew's kitchen is the balance between light and heavier forms. She explained how she loves to see a 'bank of dark-coloured cabinetry', but Zoe didn't want to lose the feeling of light and space created by the extension. 'So, we designed a run of cabinetry along the one wall with a large larder towards the French doors and a symmetrical use of glazed countertop cabinets at either end, but kept the parallel wall clear. And for the island, we added a potboard at the one end so that it wasn't one solid mass. The interior of the cabinetry is painted in Lily which contrasts with the dark grey exterior, and the polished quartz work surfaces bounce the light too so that we make the most of all of the available natural light,' she explained. Juliet then chose brass hardware for all of her cabinetry, varying the style between our Barlow cup handle and beehive design. 
'I wanted to walk into our kitchen and for it to look smooth and to feel calm. That's what we've got. It's been a bit of a "pinch me" moment to be honest,' she concluded. 
Life in her new kitchen
What's your favourite thing to do in your new kitchen?
'I think my husband and I both love Saturday mornings when we can really enjoy the kitchen and have scrambled eggs, bacon and coffee. The light in the kitchen at that time of day really brings the best out of the space. After a busy week at work, to just chill out in such an amazing room is lovely. We feel very lucky.'
What's your favourite part?
'I've got two: the island (which is huge!) and the larder. Both are fabulous and just what we had visualised in our dream kitchen.'
What could you now not live without?
'The larder. It's the dream storage solution. Literally everything goes in there and there's still plenty of room. We really wanted to find a way to create maximum storage but with minimal fuss so that the worktops weren't cluttered. The deep pan drawers are also a must; we couldn't be without them.'
What's next?
'Either we sit tight and enjoy our home for a while or we move onto the next project. All our friends and family think we're mad considering moving though. Next for the kitchen will be to add your beautiful Teal colour. I think the Matilda armchair in Kingfisher velvet that the team brought along to the shoot will be at the top of my list, as is the Sheldrake dining table.'
Find out more about our kitchens and book your first, free consultation here.