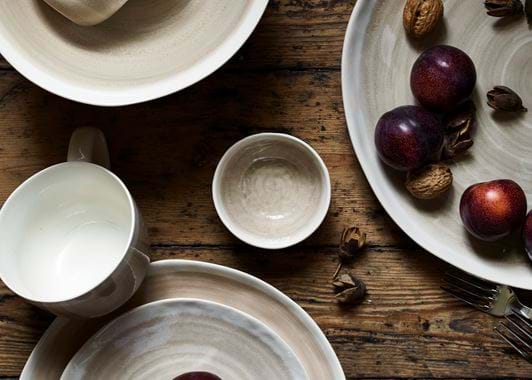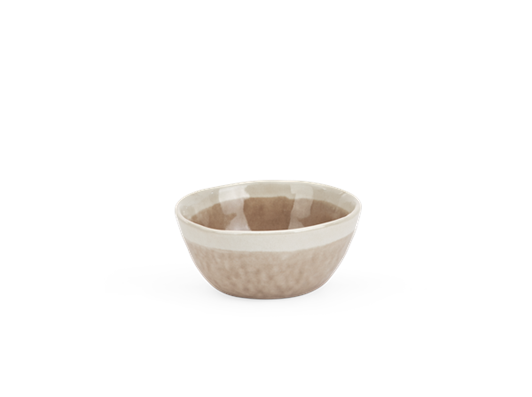 Hand finished with a reactive purple-tinted glaze, our Lulworth ceramics are decorated with a subtly dappled effect, making each piece unique. Organically shaped to bring a laid back, artisanal feel to the tabletop, the expansive collection of plates, bowls, platters and mugs is made from hardy stoneware, which is more difficult to chip than other clays and suitable for the dishwasher and microwave, and its glossy, painterly finish protects the range from cutlery marks, making it a go to for every meal.
The materials
We've chosen stoneware as it's less likely to chip than more delicate materials, which makes it the best choice for tableware that will be well-loved and used daily. Look closely at this collection and you'll also see a subtly dappled, two-tone glaze across its surface – this occurs during the finishing process where the glaze reveals some of the layers beneath to create a watercolour effect that's unique to each piece. The glaze is also glossy, which means that cutlery glides smoothly across and is less likely to leave scratches.
The colour
More of a brown-tinted purple than a deep aubergine shade, our Fig colourway has the same off-white rim and layered glaze as our Grey version, but with slightly warmer hues.
Our pairings
Lulworth combines well with lots of the other crockery styles in our collection. Try it with pale grey Lewes for a soft, classic palette, or pair it with Sutton for a mix of textures. It's also very similar to our Bretby pieces, with Lulworth's border of off-white providing the point of difference, so the two will mix perfectly.
Product Code:
LUL-DIP-BOW-FF
Care guide
Dishwasher and microwave safe.
Individually finished
Our Lulworth tableware is hand-finished, so each and every piece is unique. Colours and design might vary slightly, which is part of the charm of this collection.